Reaches remote villages in Jharkhand and other states to train farmers in a bus turned training center
Mobile Agricultural School and Services (MASS) was established in 2006 by Mr. Vijay Bharath. "I had started this program in order to reach at the doorstep of maximum number of distant farmers in remote villages. I wanted to train them to make their farming sustainable," he describes the drive. "India is the country where farmers live in villages and are aloof of new technologies." Also established training centre and provides consultancy to other agencies, developing films for other agencies related to agriculture. It is based at Ranchi, Jharkhand.
To withstand the language barrier across the regions, Mr. Bharath made a film to make the farmers understand the core subject clearly. However there were other challenges like availability of hall, electricity, the monsoon season etc. "I felt if I purchase a bus and modify it into a training hall, it would satisfy my requirements and also reach more farmers in short time. I invested Rs. 17lakhs," he shares. Thus began his journey. The company has 21 employees.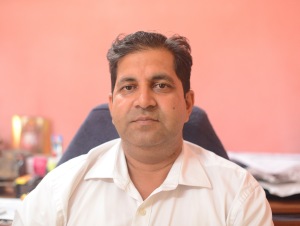 The core activity of the company comprises of, "Skill enhancement of the farmers with training and through film," he affirms. The program module is changed as per the requirement and position of the farmers. "For example if we are going to the remote village, we know that they are not going to understand our language and even film will not help them thus we decide module based on this constraint," he clarifies. "After the training program is given, our experts go there and try to evaluate the farmers."
Since establishment of the company the bus tours about 200-220 days annually. "MASS has tried to glamorize agriculture by giving respect to them," he shares. "In this way, we are bringing shy farmers forward and they are becoming good orators. "
In early days, 90% of farmers did not know what the seed treatment means. Now every farmer understands and knows how it will benefit them. Secondly they didn't know what SRI (system of rice intensity) is? Now 60-70% of farmers in Jharkhand are growing rice through SRI. Integrated pest management was a new thing for the farmers but now they are using their local resources like neem, sherman trap etc. Mr. Bharath highlights the positive changes taking place in the farming system.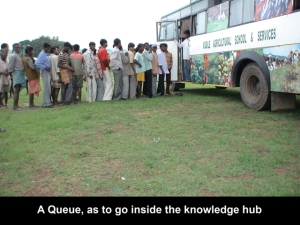 "We are 90% dependent on the government for funds," he asserts. "I have taken loan from the bank but to some extent my friends and relatives financially supported me." Government provides training through ATMA (Agricultural Technology Management Agency) and through our bus tour we provide training in taluks, districts. ATMA funds us." The company also now gets financial assistance from other agencies such as NABARD, National Horticulture Mission, Rashtriya Krishi Yojana, NGOs etc.
When ATMA provides training, the company make schedule accordingly. They let villagers know beforehand of their arrival. They also insert activities like cultural show during the session. "We show the films related to the topics and our experts elaborate on those topics and solve problems raised on that particular topic," he explains. "Then we arrange speech contest program and give some prizes to 3 winners."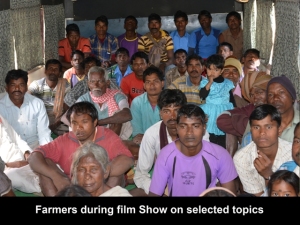 When asked how decision is made regarding which village to visit he answers, "Whenever agencies pay money, we schedule the visit accordingly. We also go on our own program to villages near to Ranchi."
During the early years the company self organized programs for about 1 year. "We invested own money, developed film on our effort," he recalls. "Government financial support came only after three years of establishment. Newspapers and other media features encouraged the farmers to accept us with warmth and show appreciation by saying that our programs are really good, educative and reaches the door step."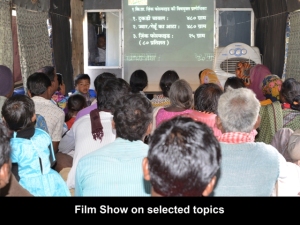 "Problems we faced sometimes were with mughalians and naxalites trying to object and find out whether we going for a better things or not. They used to ask a lot of questions. Initially they wanted money too," Mr. Bharath shares. "But now everybody knows about our concept!" The major constraint now, however, is sustainability as 90% of funding is from Government agencies.
Future plans are, "To expand our operation areas and to glamorize agriculture by calling some celebrities like Nana Patekar etc," he affirms. The company will also be collaborating with private companies where they would be hired and help in funding to make it financially independent.
Contact details:
Mobile Agricultural School and Services
"Parvati Kailasha" Gadi Gaon, Hotwar P.S. – Sadar, P.O. – Hotwar, Ranchi- 835217, Jharkhand
Mob: 09431588284
Email: vijmassmoon@yahoo.com