Assimilates multi-cropping, dairy and fish farming
"If mono cropping is practiced then in case of some uncontrollable factors it is a complete loss! There will be no financial support. Therefore I opted for incorporating different elements of agriculture in my farm. In addition, I want to try on news things so that my farm is independent for all farming inputs. I want to reduce the investment and earn more profit," says Mr. S Muralasiddappa, full-time farmer from Davangere district, Bangalore. "I have 16acres integrated farm. I am into paddy, fruits and vegetables cultivation, dairy farming and fish farming. I also grow fodder to feed the cattle. Palm is cultivated for oil. Lastly I make milk based value added products namely curd, buttermilk, butter and ghee," he introduces his Marulasiddeshwara Farm.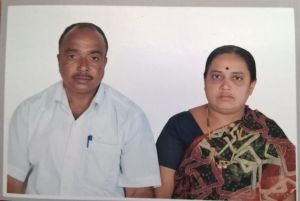 Many different vegetables are grown at the farm. Farm has rich plantation of mango, coconut and sapota trees. It has gobar gas unit that is source of cooking fuel and manure. "I don't have an LPG connection as we use bio-gas for cooking. The slurry and vermicompost is used as manure," he adds. Curry leaves are sold weekly and coconut is sold if in excess after personal consumption. "Vegetable grown as intercrops gives regular earning to meet the routine expenses of home and farm." All these are grown in 1.5 acres of farm. Paddy is grown in about 4 acres. "Paddy variety grown is Wwara. It is sold at Rs. 2000/quintal where as Rs. 1 lakh is earned from palm sold for oil. Earlier we used to sell rice but now we sell paddy itself," he adds.
"I am into organic farming practices since last 15-20 years. Use of chemicals is strictly banned in my farm," proudly shares Mr, Marulasiddappa. Cattle dung is used for gobbar gas while urine is transferred to bio digester without wasting even a single drop. Then it is sprayed to the farm as natural pesticide.
The dairy unit has cows as well as buffaloes. Out of 15 cattle, 2 are Jawari cows, 1 cross HF cow and rest are murrah buffaloes. Buffaloes give about 4 liters milk while cows give 5-6 liters milk. Milk is sold at Rs. 50/liter, curd at Rs. 30/half liter, ghee at Rs. 500/half kg, and butter for Rs. 250/kg. Cattle are fed with balanced fodder,
"For 10 years I am growing napier grass in 1.5 acres. It gives balanced nutrition to cows and buffaloes. It improves quantity and quality of milk," he shares fodder information. Rice grains, polish rice husk, beaten rice, maize are also given along with napier grass. Both dry grass and green grass are added. The cattle are fed twice a day.
Mr. S Muralasiddappa started fish farming 6 years back on insistence of agriculture officers in his region. He rears five varieties of fishes such as catla, rohu, mrudala, couri and gende fish. He had dug a pit to store water but later it was used for rearing fish with support from fishery department of Shimoga, Bhadravathi and Davangere. He gets fingerlings at subsidized rates of 30-40 paisa per fingerling from these departments. "Before rearing I went for training in Andhra Pradesh," he informs. The fish pond is 100 ft length, 100 ft breadth and 15ft deep.
"I buy almost 2000 fingerlings. After rearing for 10months, it grows to 1ton fishes. Approximately 1-2kgs each," he elaborates. "The pond is emptied in June-July and re-filled with fresh water. The waste water is used in the farm in summer but in rainy season manure is prepared from fish pond. The slurry which contains fish excreta is pumped to the pit containing compost." Fish is fed with cow dung which will have minute worms and waste food in home. There is no money spent on fish feed. The fishes are sold to traders at Rs. 100/kg. "It fetches Rs. 1lakh," he asserts. The pond is cleaned using lime. "Clean water is filled in the pond along with cow dung. Lime kills small worms, bacteria etc."
Mr. S Muralasiddappa is elated and motivated with the different awards he has received for his achievement in agriculture. "In 2013 I got award from Mr. Modi in Gujarat," he shares happily and concludes, 'I feel how much ever I do is less! Besides my focus is less investment and more returns."
Contact details:
Marulasiddeshwara Farm
S/o Siddappa, Nagarakatti, Kaddajji Post, Davangere (Tq n Dist.), Bangalore
Mob: 9945819244