Believes in supplying milk directly to the consumers instead cooperatives or milk processors
Malhi Dairy Farm is engaged in supplying pure milk directly to the houses in Jalandhar district. The farm is based on the traditional way of farming but upgraded regularly in terms of animal care, milk supply and hygiene practices. "We have been selling milk directly to the end user and we want to stick to it. We do not favor outsourcing our prime operations that are marketing and sales," says Mr. Gurpreet Singh, farm owner. His father Mr. Gurdayal Singh started the dairy farm 35 years ago at Singha village, Jalandhar district, Punjab. In all there are 80 buffaloes in the farm. Primarily it is Murrah breed sourced from Haryana state.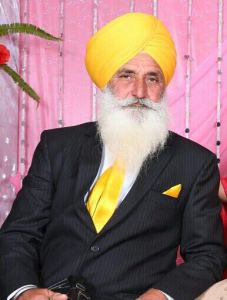 Milking is done twice in a day, once at 4-4.30 am while again in evening at 5-5.30 pm. When asked about automation Mr. Gurpreet shares, "Milking machines/parlours are much more suitable for cows but for buffaloes it has few practical issues such as animal feels very uncomfortable, it kicks the handler and cleaning is tough. Therefore we do it manually and ensure to maintain the best hygiene conditions." Milk is filtered well before supplying at the customers' door step.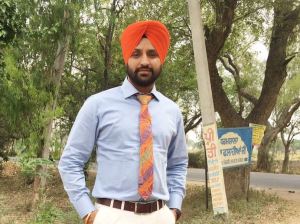 "Purity of milk is our top most priority," asserts Mr. Gurdayal Singh. "We do not mix any artificial concentrates or foreign substance in the milk because our end-users are mostly children. We can't spoil their health for short-term gains. Besides all the feed for the entire herd is grown in-house." Farm has its own farmland to grow organically produced green fodder. It is the mix of crops such as maize and bajra. "We also give vegetables to the buffaloes. Further the feed is changed as per the weather conditions. For example, bajra is fed mostly in the winters," he adds. To grow the fodder in the fields, dung and urine of buffalo are used extensively. "We also have a small bio-gas unit at the farm. So its slurry is used in the fields as fertilizer."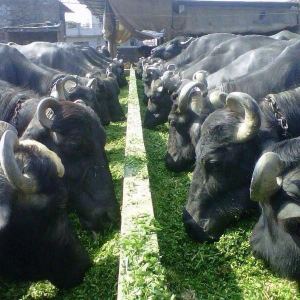 Milk obtained at the farm everyday is more than 5 quintal approximately. "Entire produce is sold out completely in summers while in winters in the evening few liters of milk remains unsold then we sell it to the nearby dairy processing unit. By and large we are able to sell milk outright daily," he affirms.
Milk is sold at Rs. 50/liter. "We maintain sales card for every customer. It is updated immediately after the milk delivery. End of the month, payment is collected," elaborates Mr. Gurpreet on delivery and payment system. Buffaloes are given bath twice in a day during summers while once in winters.
Good veterinarians were seldom available in the village. It was a biggest challenge faced. To cope with the problem, "We took the basic training ourselves to look after the buffaloes. Now as we are progressing we gain the practical knowledge that is beyond the theoretical information given in books," claims Mr. Gurpreet. All the animals are vaccinated as per the regular schedule. "We have adhere to the vaccination chart as suggested by veterinarians. Following it we give the vaccination to the buffaloes ourselves at the farm. We are able to treat the animals for routine sickness on our own. Only in critical situations veterinarian is called at the farm."
Future plans are to set up cow farm. "It shall be a complete automatic or semi-automatic farm. We also would process the cow milk in the farm itself. We have been working as dairy farmers so expansion too will be in the same field," father-son duo concludes.
Contact details:
Malhi Dairy Farm
Singha Village, Post Office Kang Sahbu, District Jalander, Punjab
Mobile: 098887 81708
Email: malhidairyfarm@gmail.com