Invents jackfruit seeds based beverage, an alternative to coffee

"One of well-wishers told me in Philippines jackfruit seeds are processed into different health drinks. He insisted that I too should try to use the seeds creatively! Taking the advice I started the experiments. Finally after the series of trials I could make jackfruit seeds powder. To make the drink with this powder, consumer would have to prepare a decoction following the same steps as in coffee decoction. Later milk and sugar are added as per taste. The flavor of the drink is quite close to coffee," shares Mrs. Maithrayee Shenoy, Founder, Archeez Kitchen. The powder is recently launched in the market under the brand name 'Jaffe'.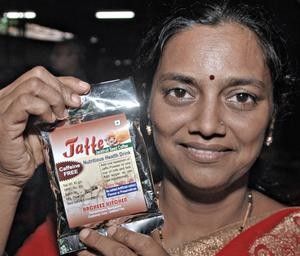 Different types of fruit squash and herbal concentrate (kashayam) are produced at Archeez Kitchen. "I hail from the family of industrialists therefore I too wanted to have my own industry! I was passionate about the same. This was the foundation of my business venture," she asserts. Company is located at Mangaluru, Karnataka.
Jackfruit seeds powder is processed using drying and roasting technique. 1 kg jackfruit seeds give 250 gm final product 'Jaffe' powder. Seeds are procured from the small scale industries engaged in making value added products like chips and papad. "They clean and pack the seeds for us based on the quantity we require. We buy the seeds from them at the pre-fixed price," she adds.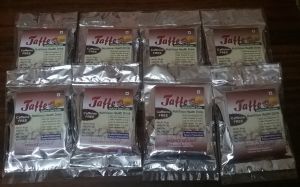 Awareness on the powder is created by participating in different agri exhibitions and promotional programs. It is believed to be having good health benefits. "We serve the drink to the visitors at minimal price. The good taste prompts them to buy the powder. So far we are receiving good response but for a wide acceptance we have to wait for some more time as it is relatively a very new product in the market. Consumers will develop the liking slowly. We are also not in a hurry!" avers Mrs. Shenoy.
Jaffe Powder is sold only in one packing at the moment. It is sold at Rs. 30/- for 80 gm packet. "Packing and labeling is important as it attracts the buyer. Selling loose powder on the spot looks clumsy so I have kept the packing simple and nice. Labeling is crucial for connecting with the buyers for next purchase," she says.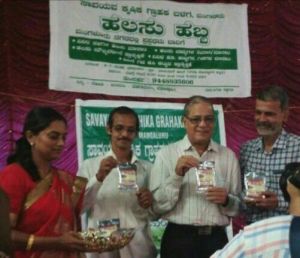 In coming one year Mrs. Shenoy aspires to develop minimum 15 value added products right from the raw to fully ripened jackfruit. "All the products have been crafted by our ancestors but unfortunately we have forgotten it. I am going to revive all for sure within one year," she affirms.
"In our country tons and tons of this amazing fruit is wasted every year. It is our natural wealth that must be used to best of its advantage by making varied value added products. It is our duty to respect and safeguard our treasure," she signs off.
Contact details:
Archeez Kitchen
House No. 19-689/1, Ram Prasad Building, Pandeshwar New Road, Mangaluru, Karnataka, 575001
Mobile: +919480537794
Email: archanaadige@yahoo.in