Family run estate known for its' fine cup of coffee
"The exquisite taste of our coffee beans are recognized as 'Flavour of India – The Fine Cup'," shares Mr. Peter Naresh with pride. He looks after the family owned and managed Loyola Estate. "We grow coffee in 50% shade to make sure our quality is maintained in the cup and plant health is top priority. Indian coffee plantation are mainly acknowledged worldwide as agro' forest system that is coffee grown under shade. This is the main reason Indian coffee fetches premium price when compared to other coffee growing countries where it is grown in open cultivation."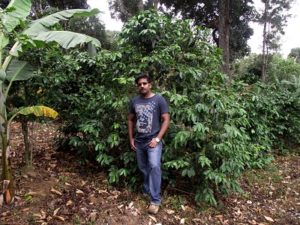 Loyola Estate is located in the lower Pulney hills, Dindigul district, Tamil Nadu. It spreads over an area of 150 acres having rich cultivation of coffee, cardamom, banana and pepper. The estate also has 'The Joseph Coffee Curing Works' to process the coffee beans. Coffee variety grown are BBTC , Cutimore , Neranki and Brazil Cutimore ( Arabica). In 150 acres coffee is intercropped with pepper and banana (virupakshi and red variety). "We have unique and disciplined planting method of intercropping these two crops. We maintain two rows of coffee and one row of banana. Our pepper plants also grow in shade. In case of any re-plantation, we first plant banana and once the shade is created we plant coffee and pepper to have a consistent growth and 99% establishment," he says. Cardamom is grown in another 10 acres.
"We are managing the estate from four generations now. Coffee has always been my passion therefore after my graduation from Singapore and a brief work experience in banking sector at Chennai I took over our plantation and processing unit," he adds.
Soil pH and plant nutrient management are the two areas given utmost attention in the estate.
Speaking of farming practices, Mr. Peter says, "We rear cows and goats for manure. We turn the dung of the animals into manure. The herd size is eight cows and thirty three goats. In addition we use chemical fertilizers too but in minimum quantity. Fertilizers and manure are used along with beneficial micro organism like bacteria and fungus effective for plant growth and prevention from diseases. We use organic matter such as farm manure, sugarcane press mud and green manure to the maximum extent possible. Our ultimate aim is to achieve best production ensuring good health of the plants." Commonly rust and berry borer pest attack coffee plantation but at Loyola Estate preventive measures are taken to ward off these attacks. "We make sure the soil organic content is more than 5%, ph is 6% and plants are fed with balanced nutrient rich organic manure."
Scarcity of water is the major tribulation in agriculture today. To deal with the same at Loyola Estate water is efficiently used using latest irrigation techniques. "We have check dams of 4 acres and bore wells in our estate to meet our water requirements. We use foger system for cardamom, sprinklers for coffee, pepper and banana. Soon we shall have drip irrigation to further improvise on our irrigation systems," he states.
Harvesting of coffee beans starts by October end, gets in full flow by November and ends by January. "We process the beans in-house. To do so after the fruits are harvested we pulp it and ferment for 20 hours. Post fermentation it is hand washed and sent to our curing works for drying. There we maintain a moisture of 11% and stock it. We cure and sell it as green coffee or parchment form according to the market demand," he explains. Most of the stock is exported however if the market is volatile then it is sold in the local market.
Cardamom variety grown in the estate is 'Nalani Gold'. "It is high yielding variety. Size of cardamom is big and has attractive light green colour. It has a good market price too," highlights Mr. Peter. To keep the plants safe from the diseases good shade management is practiced, bio-pesticide is sprayed once in 30-40 days for stem borer and right amount of water plus nutritive manure is fed in the soil. "We harvest cardamom 8-9 times in one year." Per acre 400-600 kg cardamom is obtained.
Mr. Peter recommends virupakshi and red banana to other coffee growers as intercrop. These banana varieties compliment coffee cultivation very well. "After planting the suckers we can harvest the fruits once in year. Post harvesting the fruit the plant residue is decomposed in the soil. We are developing the planting material for these banana varieties within the estate," he states. Bananas are sold in the commission shop as well as at farm gate. During festive occasions demand goes up and price is fixed accordingly.
He concludes, "Agriculture is passion driven profession and having it as an ancestral occupation is an added advantage. Younger generation must explore this field for sure as it is truly amazing to see how the nature works. Everything is so much inter-related. There is so much to learn and experiment always."
Contact Details:
Mr. Peter Naresh
The Joseph Coffee Curing Works
15-2-133, Kamarajar Thidal, Pattiveeranpatti- 624211, Dindigul District, Tamil Nadu
Phone: 09655333999
Email: jccworks@loyolaestate.com , jccworks@gmail.com
Web: http://www.loyolaestate.com/