Connects with consumers for direct sale by pasting tags on farm products. Insists farmers to take responsibility of selling
Post graduation (MA) in Economics and no concrete agricultural background yet Mr. Lokesh Kumar took up farming as a profession with an objective to bring an impactful change in the lives of the farmer. "After my father retired, we came to stay in our village. Here we saw distraught life of the farmers. It was heart-breaking to see them suffer so much! I then decided to change their lives and at the same time earn gainful livelihood through farming," he describes the drives to take up farming. "I observed farmer puts more than 100% hard work, risks his saving in production and also attains good production most of the time but outsources selling of his farm produce! This is the biggest mistake!" He hails from Nagla Radhy village, Firozabad district, Uttar Pradesh.
He questioned himself and other farmers, when the farm produced vegetables/cereals/pulses are sold to the traders or wholesaler in the mandi and reach the end user, how the end user will find out who produced it for him/her? The answer was to set up the direct connect with the consumer. "To do so it was best to tag the products with the brand name, "I printed small stickers having my name and complete contact details. It was sticked on the 50 gms pigeon pea sample packets and supplied free of cost to the consumers residing in big cities and towns near to my village. I did it on a trail in 2009! The results achieved were overwhelming and encouraging. Slowly people started recognizing my brand and I received the calls for direct orders in all quantities. It was a turning point in my life," he shares proudly. The same process was repeated for all other commodities grown in his farm.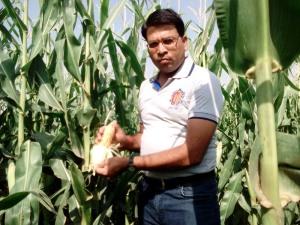 Besides, the value addition was done within the village to keep the processing cost to the minimum amount. "Fellow village residents got the employments and I got 20% premium price on my farm produced commodities as I was selling in processed form directly to the consumers. I grow pigeon pea in my farm then it is processed into pulses, packed, tagged and then delivered at the customers' door steps through courier and transportation. This is the proven model to turn farming into a notable business," asserts Mr. Lokesh Kumar.
As of date his farm products are sold in Agra, Itawa and other cities in Uttar Pradesh. "In addition I promptly participate in all Kisan Melas within and outside my state and put up stall with all the products. It helps me in building new contacts," he informs.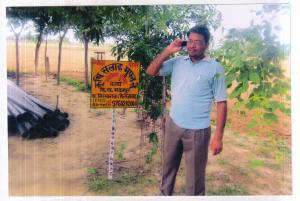 Mr. Lokesh Kumar started farming in 2006 and updated him continuously by reading agricultural books and magazines, watching agri based programs and had done varied diploma and certification courses in Agriculture from Chandra Shekhar Azad University of Agriculture and Technology, Kanpur. He specializes in bottle gourd, pigeon pea and potato.
His farm spread over two hectares. Wide variety of vegetables are grown along with cereals crops namely maize, wheat, barely (jau), pearl millet (bajra)and pulses such as black gram (urad), green gram (moong), pigeon pea (arhar). All the crops are grown in rotation.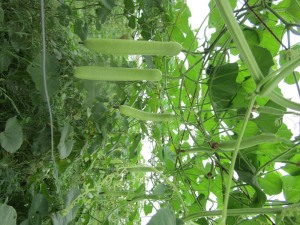 When asked how it is decided which crop should be grown, he says, "Vegetable that is least priced in the market should be grown. It is so because, by the time that particular vegetable is harvested in my field every other farmer is growing the vegetable that was priced high. Consequently, supply is more and prices fall. It happened so with onions! Last year onion was sold as high as Rs. 100/kg while next season it was sold at less than Rs. 10/kg."
In time to come Mr. Lokesh Kumar want to expand his operations. He elaborates, "Our products are not certified but sold effortlessly because it is the taste that gives us a unique recognition amongst the end users. I want to replicate the same strategy keeping the quality intact to as many as cities possible in Uttar Pradesh followed by rest of the North Indian states. We have to grow food in village but sell it in cities because money will be drawn from the places having enormous population."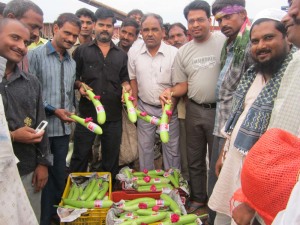 Farmer knows the hard work and struggle faced in growing the food, he must respect it first by selling it himself directly to the buyers. "If he finds it time intensive then he can seek help from his own family member and friends to do the needful and ensure to pay them for their services instead of handing over the produced to an unknown person at throw away prices. If family members are paid then they will work with the farmer with commitment else will move to other people for employment. Also he must make some provision for the storage so that he sells his products when the rates are high. Problems like natural calamities and weather issues are part and parcel of agriculture. It is unfair to keep cribbing for these uncontrollable factors. Time has changed, farmer has to consider himself just as any other businessman and act accordingly!" he adds.
Contact details:
Mr. Lokesh Kumar
Village – Nagla Radhy, P.O. Sirsaganj, District Firozabad, Uttar Pradesh – 283151
Mobile: 09837589092
Email: lokeshkumarsirsaganj@gmail.com