Offers biological solutions for integrated pest management
Koppert Biological Systems India provides an integrated system of specialist knowledge and natural, safe solutions that improves crop health, resilience and production. It is the Indian subsidiary of parent company, Koppert Biological Systems, the Netherlands. Koppert India was set up in 2012 in Bangalore, Karnataka. Udayanarayana Bhat is the Director for the company's Indian operations.
The company offers a complete biological system for combating the most common pests, including thrips, spider mite, aphids, leaf miner, whitefly and mealy bug in vegetable and ornamental crops. Biological crop protection contributes to food safety and food security as residues are reduced, the quality of products improves, and the yield increases. The result is the better marketing of the end products.
There are four main product categories in biological crop protection offered by Koppert Biological Systems India; namely pest control with beneficial insects, pest monitoring, biological control using natural products and bio stimulants.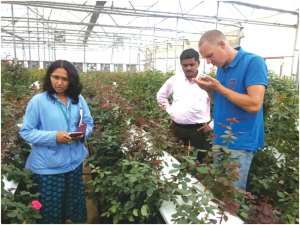 Pest control with beneficial insects
The company imports 9 different kinds of beneficial insects; namely Spidex (Phytoseiulus persimilis), Spical (Neoseiulus californicus), Swirski Mite (Amblyseius swirskii), Thripor (Orius laevigatus), Aphipar (Aphidius colemani), Ervipar (Aphidius ervi), Miglyphus (Diglyphus isaea), Cryptobug-L (Cryptolaemus montrouzieri) and Citripar (Anagyrus pseudococci). These are beneficial insects that protect the plants by predating or parasitizing the harmful mites/pests. They do not harm the plants. These insects are tested by the Indian Institute of Horticultural Research and the National Bureau of Agricultural Insects Resources (NBAIR), Bangalore. Both these organizations promote biological crop protection for the production of residue free vegetables and fruits.
The contact between the company and farmers begins before the planting in the greenhouse. First, the Koppert technical consultant visits the farm to study the crops grown, the area under cultivation, farming inputs used, and potential pest infestation. Once the collected data has been analyzed, a plan is drawn up for the introduction of beneficial insects. In this way, there is contact with the farmer from the beginning up until the crops are harvested. Up till now, beneficial insects have only been introduced in greenhouse crops in India. They cannot be used outdoors at this stage unless farmers are engaged in community farming.
Process
During the flowering season the beneficial insects are introduced every week or every alternate week, depending on the pest pressure and the location. These insects are imported only when the order is confirmed with payment as they are imported live and cannot be stored for long. Imports come through quarantine airport facilities such as at Mumbai. They are then air freighted to Bangalore and other destinations, and delivered to the grower's location. When the insects arrive, they need to be introduced into the field by the grower within two days.
Precautions
Adequate maintenance of temperature for respective beneficial insects is crucial for their efficacy during transit and in the greenhouse.
Pest Monitoring
A good monitoring program is the key to successful Integrated Pest Management. There are different traps for different insects – each with a unique color and adhesive for effective monitoring and control of pests.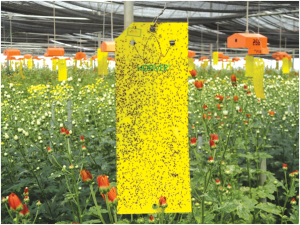 Horiver yellow sticky traps capture thrips, whiteflies, leaf-miners, aphids and sciarids and Horiver blue sticky traps are used for thrips and sciarids. Horiver Tuta is used to monitor Tuta absoluta in tomato/solanaceous crops. Lurem-TR is a thrips attractant (Kairomone) in dispenser with perforated membrane for slow release. It increases the number of thrips caught on blue and yellow sticky traps, for early discovery of the pest. It is effective for several thrips species, such as Frankliniella occidentalis and Thrips tabaci. It enhances effectiveness of protection measures. Rollertrap is a yellow sticky ribbon. It is especially meant for trapping pests where there is a serious pest pressure or spots where a high pest pressure is expected, for example along gables, ventilation windows and draughty spots. It should be hung when the crop is still young. Tutasan Watertrap is used for species-specific pheromones. It is used for mass trapping of Tuta absoluta in tomato/solanaceous crops inside or outside the greenhouse.
Biological Control with Natural Products
These are natural plant extracts to safeguard the plants from pests. Two products are offered in this segment; namely Vidi Greenpath and Vici Routz. These products are approved to be used in organic agriculture.
Vidi Greenpath is a biological agent based on a botanical extract of seed kernels of Pongamia glabra (Karanj tree) used to manage mites and thrips effectively in several crops. The efficacy of Vidi Greenpath is enhanced when applied in combination with Adpro Shootin. It works as an Insect Growth Regulator (IGR) and acts as an antifeedant agent against eggs, nymphs and adults of mites and thrips.
Vici Routz is a 100% natural product used for drenching. It contains soil probiotics, biostimulants, prebiotics and vitamins that stimulate the crop growth and root system, increases the tolerance to soil borne diseases which results in increased nutrient uptake and increased yield. It is applied after sowing in nursery beds; seedling orplanting material dip at the time of transplanting, planting; two and three weeks after transplanting.
Additives
When it comes to additives, the company offers 'Adpro Shootin'. It is a spray adjuvant based on organosilicon surfactant. It promotes super spreading and enhances the penetrability, dispersal and absorption of the spray solution on the crop. It can be used with most insecticides, fungicides, herbicides and plant growth regulators except those with high alkaline reaction such as Bordeaux mixture. Use of this additive enables better protection of crops.
Training
Farmers are supported and trained to use all the products. They are briefed thoroughly on the characteristics and features of the beneficial insects. Once the insects are introduced in the greenhouse, the grower is taught other techniques such as maintaining the humidity levels, the use of the pest monitoring system at the time of planting, general management of these beneficial insects, and the use of compatible chemicals to control other pests and diseases. Farmers are supported throughout the process from the transplantation to the harvest.
Future Plans
Koppert India works with like-minded people to promote the use of these products in greenhouses and engage more and more farmers in introducing biological crop protection, to minimize the use of chemicals and to use trapping systems in both open field and in greenhouses. Koppert has developed botanical extracts, an effective alternative to chemicals in pest management. These extracts have been introduced to Tea plantation and different horticulture crops. Our bio stimulant is being tested and will be introduced during this Kharif season
In conversation with Udayanarayana Bhat, Director, Koppert Biological Systems India Pvt Ltd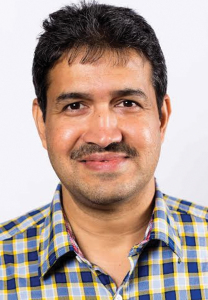 What are the milestones attained by the company since establishment in July 2012?
Our company is the first to import live beneficial insects for integrated pest management in India. We have an import permit issued by the Directorate of Plant Protection, Quarantine & Storage, Faridabad, Government of India for importing 9 beneficial insects. Our first batch of insects was imported in November 2010.We then started a demonstration project at Namdhari Farm Fresh in Bidadi, near Bangalore. It was a successful trial to control mites in chilli grown in greenhouses. We conducted tests on other horticulture and floriculture crops too.
In 2013, we also established our R&D center in Hyderabad – Koppert Sustainable Solutions India Limited. Here we are developing some of the natural solutions for Indian such as biostimulants for open field agriculture for Maize, paddy, Wheat, Soybean, Cotton, Onions, Potatoes, Sugarcane, Cumin and vegetable crops. We are now trying to promote it across the country. We are also focusing on using botanical extracts and plant extract based products to control some of the pests in tea cultivation.
What are the main areas of operation for the company?
At this stage our main focus is South India, West India and North East India. Primarily, we focus on the tea plantation in North East India. Tea is grown abundantly in Assam and West Bengal. Tea produced in these states was commonly exported to European countries, but it has been found to have high MRL (Minimum Residual Level) of more than the recommended level. This put the Tea Board on high alert to find solutions to reduce this high residual level. Our biological products are effective in minimizing MRL. We are also focusing on vegetables and flower crops in South and West India and open field crops. In North India, our Distributors are promoting our products.
How has the response of farmers been for these new technology products?
The response of the farmers is encouraging. I will share the example of the 'yellow stickytrap'. While insect traps existed before we came with our product, our yellow insect trap is popular because the insects are attracted to the unique color of the sticky card. It gets a better catch than other product so we get more orders.
What are the challenges faced with respect to the sales in this new technology?
We have many challenges. India is a vast country and whenever any new technology is introduced there is always a lot of resistance from all sides. In addition, getting government permission is a tedious task. To import insects, we were required to do post-entry quarantine studies at the National Bureau of Agricultural Insects Resources (NBAIR), in Bangalore. Our products are approved for field release but we are supposed to renew our import permit every 6 months. This prevents us from focusing on the development of the market and time is lost moving around the government offices!
Our next challenge is the import duty. The beneficial insects are nature-friendly products and a boon to farming, but the import duty is enormous that makes the product unaffordable to many farmers. We pay about 37% duty! This huge import duty is a big challenge for reaching the farmers.
If we were to have a 5-year duty drawback then these innovative integrated pest management solutions could be popularized. The government's intention is that we should produce these beneficials locally. It can only be done when there is economy of scale. We cannot mass produce them locally when the initial area is small. In addition, subsidies should be given as anincentive to the farmers in order for them to take up these natural solutions for their crops- then only will it become possible to develop and produce these products locally.
Is there anything you would like to add?
Indian farmers have traditionally been organic farmers for generations, but during the early 1960s the country faced food scarcity and food products needed to be imported. Then came the Green Revolution with the introduction of high yielding varieties. These varieties responded very well to chemical fertilizers and plant protection chemicals. That is the reason why we have been using high amounts of fertilizers and chemicals for years now! Furthermore, the government started subsidizing these farming methods and popularized them amongst the growers. We are now seeing the ill effects of using excessive chemicals and fertilizers that have degraded the soil and made food unhealthy.
To undo years of spoilage and regain soil fertility, we now need to use more organic inputs and adopt natural farming practices. It is impossible to achieve these goals without support of the government. Integrated Pest and Disease Management, enriching the soil microflora is the only solution to achieve the daunting tasks of regaining our soil fertility and increasing production of nutrient rich food free of chemical residue! At Koppert we do this in 'Partnership with Nature.'
Contact details:
Koppert Biological Systems India Pvt Ltd
"Shrinidhi" # 20, 1st Floor, Road # 1, Defence Layout, Vidyaranyapura, Bengaluru – 560097, Karnataka, India
Mobile: +91(0)8971635160
E-mail: info@koppert.in
Web: www.koppert.in