Karnataka, Mashige village based farm home to more than 100 varieties plants. Ginger torch flower an exclusivity
Keremane Farm has rich cultivation of different varieties of fruits, flowers, seasonal vegetables, coffee, spices and arecanut. It also has nursery and farmstay. "It is in our family genes to bring in new crops in the farm always. Initially it was started as a hobby but later it turned into business. Our farm holds a unique recognition of growing numerous plants. First the new plant/crop is transplanted on trial, later if it grows well, suits the weather and has good market then we multiply and cultivate it commercially. We source the planting material of various crops from nursery across South India and even other states," shares Mr. Bharath. He is managing the family owned and run Keremane Farm. It spreads in 20 acre and is under 100% cultivation. It is located at Mashige village, Chikmagalur district, Karnataka.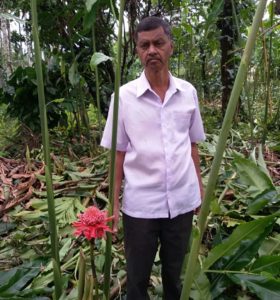 The farm is also distinctive as the founders are passionate on introducing new farming methods and exotic varieties. "I did graduation in arts but now a full time farmer as I want to continue my father, Mr. K. R. Bhaskar Rao's profession and keep his cultivation procedures alive," he adds. Robusta coffee, nutmeg and pepper are the main crops of Keremane Farm.
Speaking about the huge collection of the plants, Mr. Bharat says, "Every crop in our farm is grown in more than one variety. Arecanut is grown in four varieties. It is intercropped with pepper, chandragiri coffee and nutmeg. In fruits we have water apple grown in eight colours, four varieties of butter fruit, five varieties of guava (seedless, red coloured, dwarf (red and green), red guava having colour close to beetroot coloured), two varieties of sapota from Thailand, four variants of Laxman phal and so on. We have one variety of Laxman phal that has cancer curing properties. It is equivalent to four cycles of chemotherapy. It is sold at Rs. 800/piece." Other exotic fruits in the farm are litchi, dragon fruit (yielding from past 3years), rambutan, durien, peanut butter fruit (now ripening), egg fruit, koyimito etc.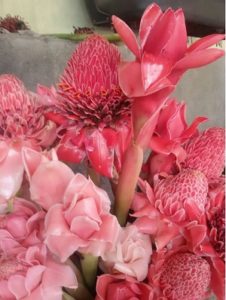 He adds, "We also have special feature plants such as fennel leaves (leaves tastes like fennel seeds), garlic climber (flowers and leaves have fragrance twice the garlic bulbs), mint herb (the leaves tastes like choloromint or vicks chocolates). We also have pista and macadamia (type of dry fruits)." Seasonal vegetables are cultivated without any use of chemicals.
"We grow heliconia flowers in 15 colours, ginger torch – 4 colours, magnolia – 2 colours, chrysanthemum – 20 colours, dahlia – 30 varieties and kokum – 3 varieties. Many plants are grown as intercrops," he states. Amongst the flower varieties ginger torch is the flower that is grown exclusively at Keremane Farm.
When asked about ginger torch flower cultivation, Mr. Bharat says, "We first read about ginger torch flower in a magazine. Next we sourced two saplings. It grew well and flower looked attractive and different so we then multiplied it into 1000 plants in 1acre." Ginger Torch needs good amount of shade and water for its consistent growth. Its' flowering season starts from November- May. It is developed from tuber (stem) and starts yielding at the age of 3years. One plant gives 40-50 flowers annually. It is used in decorations. "We used to sell it at Rs.10-20/flower but the same thing was sold at Rs. 150/flower in Bangalore. Inspite of selling at such a low cost our bulk-buyers didn't pay us regularly so we discontinued selling to them. Instead we choose for direct marketing and sold locally for college function, rotary function, weddings etc. The shelf life of flower is 2-3days."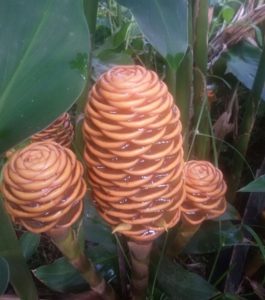 In a commercial venture, ginger torch cultivation must be done by transplanting saplings although seeds are available but it takes couple of years to germinate the seeds. Ginger torch flower cultivation is recommended as it has good demand for decoration purpose, is not attacked by birds/animals, requires less capital investment, grows in limited space, once planted it yields for 4-5 years and is hassle free to pack. One sapling costs Rs. 40-50/flower.
Distance between two ginger torch plants is kept as 5feet. 300-400 flowers/acre is the monthly production. "It is easy to grow this flower when compared with anthurium, gerabera and rose. We have intercropped it with fruit trees," shares Mr. Bharat.
Keremane Farm added another feature as 'agri tourism center' in the year 2011. "We used to get 100-110quintals arecanut annually and to deskin it we left lot of open space. However, more than half of the trees were lost due to the deadly disease 'yellow leaf'. Later with the drop in arecanut quantity we decided to convert the space into farmstay. Since then it is growing consistently and largely contributing in our farm revenues," he says. There are 5 rooms to accommodate 5 families or 18people. Usually during weekends, festivals, winter and summer holidays the rooms are fully occupied.
Revealing future plans, Mr. Bharat concludes, "We want to continue with our present operations and keep on adding more plants commercially. First and foremost arecanut was our main crop but deadly disease 'yellow leaf' took it all away. Unfortunately so far there is no solution for this disease. Sringeri and Koppa area are worst affected by the disease. Irrespective all the tribulations farming needs to go on hence we will keep developing new plants. We want to revive our region and flourish it with new plantation!"
Contact details:
Keremane Farm
Mashige Post, Sringeri Taluk, Chikmagalur District-577 139, Karnataka, India
Phone: +91 9448694288
Email: bharathrajkeremane@gmail.com
Web: http://keremanehomestay.com/