Provides small and marginal farmers access to mechanized farming. Seek dealers across the country
Kerala Agro Machinery Corporation (KAMCO) is a fully owned undertaking of the Government of Kerala. It was established to cater small and marginal scale farmers for their farming requirements. Initially it was the subsidiary company of The Kerala Agro Industries Corporation (KAIC) but in 1973 it attained the independent existence. "We at KAMCO also organize various training programs for people engaged in agricultural activities, to guide them and keep them informed about the new farming techniques," shares Mr. Sharan Kumar, Managing Director.
KAMCO's main products are mini tractor, power tiller, garden tiller, power reaper, diesel/petrol engine and brush cutter. The quality standard for all the machinery produced at the company's owned factorieshas been tested and certified by competent authorities. The global standard and system maintained has earned KAMCO ISO 9001:2008 certification.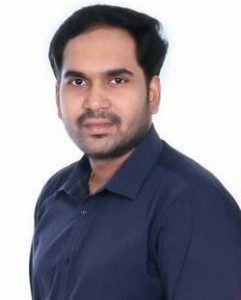 It has six state-of-the art plants in Kerala, South India. The registered office and works is at Athani, Ernakulam district, Kerala. It isthe prime centre for manufacturing power tillers and tractors. The Kalamassery unit was commissioned in 1992 for diesel engines production. The third unit was set up at Kanjikode in Palakkad and the fourth unit at Mala, Thrissur has been operational since 2000 to meet the demands of power reaper. The fifth unit for manufacturing tractors is also setup at Athani, near Nedumbassery International Airport. The latest plant for New Generation Power Tiller was started January this year at Valiyavelicham, Kannur District. 700 plus is the HR strength of the company.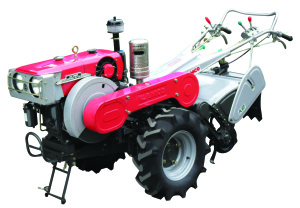 Power Tiller
Power Tiller contributes 90% to the total revenue of the company. "We are the only one company in India producing power tillers in the Government sector. Rest all rival products available in the market are sourced from neighboring countries. We got the technology transfer for this product from Kubota, Japan," affirms Mr. Sharan. The machine is very user friendly and easy to operate for the farmers. It is used for land leveling and weeding. "By connecting few specific attachments it also functions as sprayer, leveller, pump and many other farming activities. It can be even used as transportation vehicle," he adds. The diesel engine is fuel efficient as it consumes only 1.2 liter/hour.
Target Market
"Our 90% of production is focused on power tiller. We manufacture 1000 power tiller in one month," shares Mr. Sharan Kumar. The major market for the power tiller is North Eastern States of India. When asked about high demand of KAMCO machinery in these states, he elaborates, "In North and West States of India, farmers have large landholding therefore they prefer buying big tractors costing between Rs. 6-10 lakh. They have the financial ability as well to buy it. On the contrary in North Eastern States farmers have very small farmlands hence they prefer our power tiller.The price of the machine is very affordable and Farmer has to pay only around Rs. 1 lakh after central/state government subsidy." Last year KAMCO sold 4,400 power tillers in these states and this year company is expecting to have sales increase to more than 6,000. "And we have around 30-35% market share of power tiller throughout the country."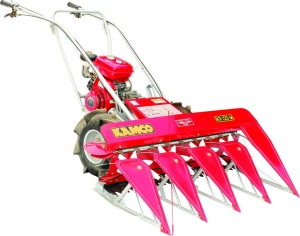 Distribution Network
To reach the customers all over the country KAMCO has appointed company authorized dealers and service centers. "So far we have 250 vendors and 70 plus dealers primarily in South India and North East India," he adds. "This year we have appointed 17 more dealers in our network. We still want to increase the number of dealers associated with us. The applications are available on our website."
Experience in agriculture, trading knowledge, present occupation, number of employees working, space availability and financial strength are few of the main factors considered when appointing the dealer. "Besides, our company officials visit the applicant personally and take a close look at their operations in the market, warehouse and also interact with their employees. After being 100% satisfied on these aspects the dealer is appointed," he explains. The dealers appointed by KAMCO have to stick to company products, "Other rival products sales are not allowed," he adds. The orders from the dealers are processed within a day. Minimum 10 machines are clocked in one order. Yearly sales target is fixed for the dealers.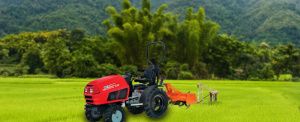 After Sales Service
Technicians and mechanics are stationed at Kolkata/Agarthala to provide after sales service to the buyers across the North Eastern States. "Besides the dealers and their team are trained to maintain and repair the machine," says Mr. Sharan Kumar. All machinery spare parts are available with all the company dealers enabling a quick and hassle free service to the customers. "Our spare parts business is doing good! On an average we attain the annual turnover of Rs. 12 crore per year," he avers.
New Launch
KAMCO is working on self-starting power tiller, diesel generator, pump sets, rice transplanter and grinding transplanter. Very soon these products shall be launched in the market. "Except the diesel generator rest all the products will be in the market for commercial sale by the end of July 2016 and the generator will be mostly introduced by the year end," he asserts.
Future Plans
KAMCO plans to expand its operations in other states of India too. Testing and trials are in process and also the production capacity shall be improved to meet the growing demand of the products. "Being a public undertaking company, farmers trust us! Further quality of our products gives value for money and is by and large best in the country. We want to continue serving small and marginal farmers with our KAMCO farming machinery," concludes Mr. Sharan Kumar
Contact details:
Kerala Agro Machinery Corporation Limited (KAMCO)
Athani – 683 585, Ernakulam Dist. , Kerala State.
Phone : 0484 2474301
E-mail :marketing@kamcoindia.com
Web: www.kamcoindia.com