300 plus mango varieties grown on one tree! Develops new mango and guava saplings for commercial farming. Located at Malihabad, Uttar Pradesh
Mr. Haji Kaleem Ullaj Khan, 71, has developed one of its kind tree in the entire universe that yields 300 different varieties of mango! The fruits are neither plucked nor sold, "It is my lifetime treasure that has given a distinctive identity to my motherland therefore it is beyond the commercial deals. Mango of this tree is never sold! The fruit drops on its own and one who see first can eat it," he asserts. "I had been working on this tree since I was 17 years old. It is the essence of my learning and experience till date."
Initially it was a simple mango tree around which Mr. Khan spent his time playing around as a kid. Later in growing up years he learnt grafting and started adding grafts of other mango varieties to this tree. "I used to add all possible mango grafts to this tree. Some used to dry up while others would grow as part of the tree. In this way it kept growing," he adds. Every fruit on the tree has a tiny label of identification on its pale green pedicle.
The tree has two more exclusive features. It yields a mango variety that has two different skins and two different layers of pulp, each having a different taste. It is named as Anarkali. Another feature is that after the research it has been found that the extract of this tree has five components similar what is present in human blood! "It implies that if there is deficiency of any of these five components in human blood it can be fulfilled by the extract of my tree. Capsules will be made from the extract for the human beings," he avers. The tree is more than 100 years old and receives visitors across the globe.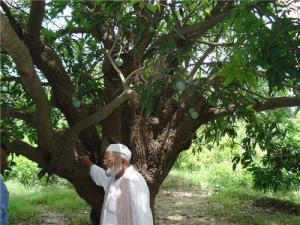 Working with mango sapling is passion for Mr. Khan. Besides, many people started asking him for the saplings for the commercial farming. Therefore he established Abdullah Nursery. Several new varieties of mangoes are developed using the asexual propagation technique of grafting. Primarily he uses ground layering for plant propagation for most commercial saplings, and veneer or wedge grafting in special cases. New mango varieties are named after Indian national leaders like Late Mr. APJ Abdul Kalam, Mr. Narendra Modi , Mr. Sachin Tendulkar and so on. Other than mango, "I also wanted to do something new in guava fruit plants. So I have developed guava variety that flowers and fruits all year round. The taste of the fruit is very good. It is named as Aishwarya," he adds.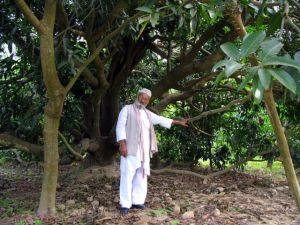 Mr. Khan is also fondly called as mango man. Government of India recognized his innovative technique of growing more than 300 varieties of mangoes of different shapes, sizes and hues on one tree and awarded him prestigious civilian honour, Padma Shri in 2008. "Almighty had directed me to develop the tree to unite the world as it has mango specialties of many countries. It is safeguarding the prized mango of different region. It is standing erect symbolizing peace and harmony," he signs off.
Contact details:
Abdullah Nursery
NH 25A Malihabad, Uttar Pradesh 226102, India
Mobile: 09936653445
Web: http://abdullahnursery.com/ , http://hajikaleemullahkhan.in/