Insists on planning followed by cultivation to earn regular income. Fetches Rs. 15 lakh a year from 2.25 acres farmland
"I have a policy that I should get revenue from my farm daily, weekly, monthly, quarterly, half yearly and yearly. I follow this practice firmly therefore I plan the crop cultivation accordingly. I have a complete integrated farm. I grow flowers, vegetables, fruits, exotic vegetables in poly house, dairy, pig, poultry and fish farming," says Mr. H.Sadananda. "Poultry, cows and buffaloes provide everyday earning through eggs, milk and manure, flowers weekly, vegetables quarterly, fruits are sold once in six months and so on. Manure for the crops is produced at the farm itself through vermicompost, gobar gas hence my production cost is minimized. Most important my family eats nutrition rich food so our health is assured."
When asked it would be challenge to manage and monitor 30 varieties crops in 2.25 acre farmland, he responds promptly, "No! I use technology to make the routine work easy and less time plus labour intensive. I have agri implements such as milking machine, drip irrigation, power weeder etc."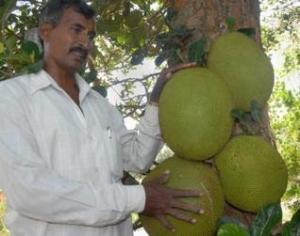 He grows button rose in ¾ acre farmland. Two thousand plus rose cuttings are planted in the field. He selected this rose flower variant because it does not have many thorns and sells at good price.
Exotic vegetables namely capsicum, broccoli, lettuce, tomato are grown on rotation in the polyhouse, set up on one-fourth of an acre. "Five years back I had spent Rs. 7lakhs to construct polyhouse, I had got subsidy of Rs. 3lakhs from Government. Poly house is resistant to excessive wind, heat and diseases. Moisture is retained in the plants as a result quality of yield is good and selling price is rewarding. We get more yield in polyhouse when compared to open field cultivation," he affirms. The crops in polyhouse are mostly grown on contract hence the rates are fixed prior to cultivation.
Vegetables and flowers are sold in AMPC market or Chickaballapur market or at the farm itself. "I also sell in weekly market by myself. It all depends on our convenience and rate," he adds.
Mr. Sadananda rears 250 Giriraja hens that are sold once in every three months, "The poultry droppings are good source of nutrients for the plant growth mainly for areca plantation. These birds are very easy to rear as these are mostly disease resistant and feeds on agricultural waste," he affirms. He rears common carp, rohu and catla fishes too in the farm.
Fish waste water is used as manure along with vermicompost, cow dung, neem and fertile soil from lake. Bio-digester slurry is fed to the plant roots through the drip system. To manage water scarcity Mr. Sadananda has rain water harvesting system and bore well. "I have drip and sprinkler to use every drop of water effectively and efficiently," he adds.
"I worked in a private factory in Yelahanka, Bangalore for 15 long years. I was always inclined towards agriculture but continued with job. Later I observed many businessmen were buying farmland for investment purpose and they didn't have any interest in farming. On the other side I always felt in job I am not paid what I deserve so I started farming. For some time I shuttled between job and farming but then I quit to become a fulltime farmer, the best decision of my life!" he shares.
It was not a smooth ride in agriculture as many problems were faced by Mr. Sadananda but with family support and guidance from Bangalore Agriculture University on integrated farming he sailed through. "I kept adding different farming verticals in my farm in a planned way so that I have a continuous cash inflow. Farming if done systematically leads to peaceful and prosperous life. I faced problems but it was all solved with integrated farming and now my life is easy. Rest it is all about planning and cultivating!" he signs off. Mr. H. Sadananda has been felicitated with many awards for his unique farming techniques.
Contact details:
Mr. H. Sadananda
Hanumantharayappa, Antharahalli PO, Tapasihalli Village, Doddaballapur taluk, Bangalore Rural, Karnataka
Mobile: 9342022146, 9241602789