Processes disposed flowers into incense sticks. Based at Warangal, Telangana
Flowers proffered to the deity in temples and mosques are waste but cannot be dumped into the garbage bin as it was the offering to the Almighty! Instead people opt to leave it below the trees or dump in the water bodies assuming it shall decompose naturally. "However in reality the floral waste rotten, becomes breeding center for many diseases and contaminates the water/air in the atmosphere. This is a common problem faced across the country. I wanted to resolve it with a proper solution. On research I found flower contains carbon that could be used for making incense stick. Convinced with the idea to convert flower waste into incense sticks I shared it with my brother Preetham and then we worked together to turn a simple idea into a source of earning for unemployed women," shares Mr. Nikhil Gampa, 27, Co- founder, Green Wave.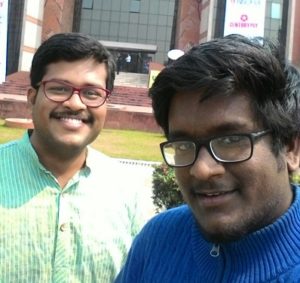 Warangal based Green Wave is working on innovative clean technologies to save the environment by effective recycling and reusing of waste. In addition provides source of income to women who are unemployed due to lack of education and family obligations. It was established in May 2015. The first breakthrough technology developed by Gampa brothers is producing incense sticks from the disposed flowers procured from the places of worship. The incense sticks are sold under the brand name 'Nirmalya'. Pack of 24 sticks is sold at Rs. 30.
Entire process of converting floral waste into incense stick is environment friendly. "Usually incense stick manufacturers use charcoal as the burning agent. When charcoal is burnt it releases harmful substance in the atmosphere that could lead to respiratory problems. In our process dried flowers acts as burning agent that when burnt is not injurious," explains Mr. Preetham Gampa, 23, Co-founder.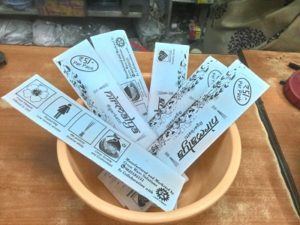 The production process begins with collection of flowers, segregation-1 of unwanted items (thread, leaves etc), segregation-2 of flower varieties, solar drying, grinding dried flowers into powder, mixing with four other ingredients to make dough, rolling on bamboo stick, drying-1, dipping in essential oil, drying-2 and packed. "Once the flowers are turned into powder then in just two hours one kg dough can be rolled into sticks. If a team of three women do it together they are able to roll out three kg dough into sticks in two hours. Earlier we were sun-drying the flowers and time taken was 7 days but now we use solar dryer so flowers are dried in 4 days," says Mr. Nikhil. One kg flower waste when dried becomes 600 grams. To this four more ingredients are added in fixed proportion to make one kg dough that when rolled out makes 1000-1200 sticks.
When asked about segregating the flower varieties, Mr. Nikhil explains, "All the flowers can be mixed together and sun dried but the quality varies. We have observed when we segregate the flower varieties like rose, hibiscus, jasmine and so on the quality of the end product is much better. Each flower variety has its own characteristics and properties so mixing it all definitely hampers the quality. Therefore segregating flower variety is must."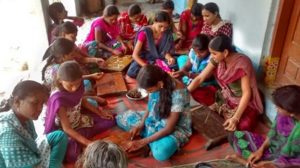 Nirmalya incense sticks have received overwhelming response. 300-400 kg floral waste is processed every week. "We started the work in Kanpur and now expanded our production process to Warangal and Mumbai. The sticks are sold through our facebook page and retail outlets. We have many repeat buyers from direct buyers," states Mr. Preetham. Per day incense stick sale is 75-100kg. "Based on the feedback received from our customers we are working on bringing out different fragrance in incense stick."
Future plans are to reach out to more cities for producing and selling incense stick as well as develop more products from the flowers. "We are developing holi colours and dhoop sticks from used flowers. Soon these will be launched. In addition we are trying to recycle different wastes like fruits and vegetables into compost and other useful products. We are committed to revolutionize the present industrial scenario by taking the initiatives towards a cleaner, cooler and a greener earth and make it a better place for the future generations to live in," duo signs off.
Mr. Nikhil Gampa completed engineering in biotechnology from NIIT Durgapur. He ventured into innovating simple techniques to recycle the waste while pursuing masters in social entrepreneurship from TISS, Mumbai. He has completed his masters and now focused on Green Wave expansion. Mr. Preetham Gampa is in last year of his engineering at IIT Kanpur.
Contact details:
Green Wave
H.No 1-7-644, Subedari, Hanamkonda, Warangal, Telangana – 506001.
Mobile +91 9769412923
Email: gampa.nikhil10@gmail.com