Income tax consultant diversifies into agriculture to bring sweet revolution in the country with stevia farming
India is going to be a diabetic capital of the world! India is facing terrible crisis of groundwater depletion in many states! "Stevia is one of the crops having solution for resolving these two problems. To produce one kg sugar 1500 liter water is required, to grow 1 kg rice 3900 liter water is needed and 1 kg wheat is produced using 2000 liter water. Conversely stevia equivalent to the sweetness of 1 kg sugar is cultivated using only 75 liter water. These figures proves stevia cultivation require comparatively very less water and can contribute largely in coping with groundwater diminution. Also stevia sweetener is much healthier alternative to sugarcane based sweetener ensuring good health of the countrymen. Lastly stevia has the potential to improve the livelihood of the farmers and putting an end to the continuous low economic growth resulting in suicides by the farmers," claims Mr. Rajpal Singh Gandhi, founder and director, Green Valley Stevia Farms.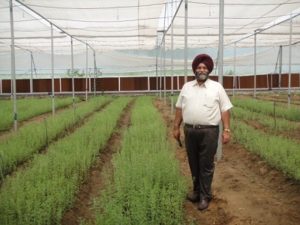 The farm spreads in 50 acres having designated space for cultivation, hi-tech nursery, research laboratory, tissue culture lab and processing unit. It is located at Pojewal, Nawanshahr district, Punjab. "At our processing unit we exclusively work on stevia leaves and not any other crop. Our processing procedure is 100% natural. We process dry stevia leaves in our processing unit to produce the extract, which is once again processed to produce value added products precisely flavored teas. These are sold to the end-users directly in domestic markets and export is on cards," he shares. Flavored teas are sold under the brand name 'Steavia'. "We have filed patent application of the formulation." The processing plant's capacity is 5 tons of dry stevia leaves/day into liquid and powder both. Company's stevia testing and research laboratory is recognized by the Indian Department of Scientific and Industrial Research (DSIR).
"Financial Position of farmer in India is not good as farming is not a remunerative venture. I wanted to identify high-yielding and profitable crops that can improve livelihood of the farmers. Secondly being an income tax consultant I knew agriculture income is tax free. Thus wanted to generate maximum revenues and provide opportunities for growth and prosperity to the farming community. My agriculture journey began in 2013-14 with production and marketing trials on various horticulture crops. Finally it concluded on stevia, I adopted farming as a profession of choice and not by inheritance! If people start purchasing land with the intention to adopt agriculture as active profession like any other business/industry then it will be a boon Indian economy" he describes the drive to diversify into agriculture from income tax consultancy domain.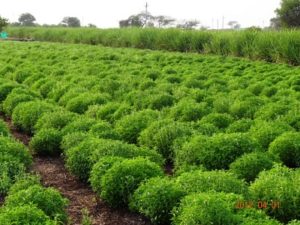 Stevia was approved as natural sweetener in Japan way back in 1970 and more than 60% of Japanese consume this zero-calorie sweetener over honey, jaggery and sugar. "This fact caught my attention and I decided to grow stevia commercially. To begin with, I cultivated stevia in my farm as the main crop. On receiving bumper crop in 2016 I was convinced that stevia has the potential to enable farmers earn better. However there was no stevia processing facility in the country therefore I established country's first processing plant and tissue culture lab exclusively for stevia," he adds. Today he shares his production expertise with Indian farmers and associates them with Green Valley Stevia on contract giving them 100% buy-back guarantee subject to the our processing capacity. Farmers across Punjab and in other states namely Gujarat, Madhya Pradesh, Uttar Pradesh and Rajasthan are working with him on contract agreement.
In India farmers are proficient to grow any crop but selling and pricing are the biggest setback for them therefore, "We give the farmers assurance of purchasing their entire stevia leaves at best possible price. It is the agreement of 5 years where the prices are fixed considering the inflation and future sales forecast. However, in our contract we have a clause in which farmers is given freedom to sell their stevia leaves to other buyers if they get a better price," he asserts. Best quality planting material for stevia cultivation is also provided to the contract farmers.
According to Mr. Gandhi stevia hold a good future for the farmers. The plant life is five years and the crop is harvested 3-5 times in one year. On an average a farmer will obtain 1.5 ton stevia leaves/acre/harvest. "The price of dry leaves varies between Rs. 100-140/kg. If we take an average price as Rs. 120 then farmer earns Rs. 1.5 lakh per annum for three harvests and the production expenses for the first time is Rs. 60 thousand including the planting material while for the next harvest the production expenses drops down to Rs. 10 thousand/acre. We provide the guidance and give confidence to our farmers not to take high interest rate loan for growing this crop.
Sharing future plans Mr. Gandhi says, "We are soon to launch new teas like Moringa with stevia, 3in1 (blend of milk, tea and stevia) and coffee with stevia." Green Valley Stevia Farms is working on the mission 'Wealthy farmer and Healthy Society'. "To accomplish the mission we need the support of state and central government which is falling short at the moment. Currently stevia has been quoted as an artificial sweetener by FSSAI and is being charged with 18% GST against the sugar that is 5% GST. In Canada GST on Stevia sweetener has been declared under 0 % slab to encourage its application for healthy living. Sugar is considered as natural sweetener but stevia as artificial despite of being 100 times healthier than sugar. Stevia is 100% produced naturally. This approval needs to be under natural food ingredients. Stevia farming has been declared as economic crop by China and is leading in farming despite the fact that climatic conditions to grow over there are not better than India. Stevia cultivation needs to be promoted in our country to make the farmers wealthy and society healthy. I personally believe that Nature has given multiple solutions to the problems created by human beings only thing required is to identity it and implement it. Stevia is one of them," he signs off.
Contact details:
Green Valley Stevia Farms
Office: Near Hotel City Inn, Garshankar Road,
Banga, District SBS Nagar, Punjab
Phone: 080-9900-9901
Email : info@greenvalleystevia.com, steviafarming@gmail.com
Web: http://www.greenvalleystevia.com/, http://www.steavia.in/