Develops and supplies fruit saplings. Specializes in Apple Ber
Something new, something unique is what the buyers seek from their vendors and agriculture business is no exception to this fact. It is well followed and practiced by Mr. Nitin Vaishnav, founder Green Culture Nurseries & Farm. Five years back he imported Apple Ber tree from Thailand, developed the saplings and created awareness on the fruit amongst his buyers. "Apple Ber is new thing in India. Farmers do not know much about apple ber cultivation. We sell the sapling and give guidance for one year," he shares. "We visit our buyer's farm and collect the details on soil and water quality, other crops grown at the farm etc. Based on the information collected we prepare the schedule for them that lists the details on apple ber farming like spraying, farming inputs to be used and so on." Farming guidance is offered exclusively to the buyers free of cost.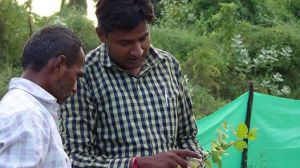 Sharing his initial years experience he says, "In first year itself after we got the tree from Thailand it yielded good quality fruits. Then we developed saplings within a year." Cost of cultivation and maintenance is less for the plant.
Apple Ber tree is recommended for the regions having water scarcity as it requires very less water. It survives easily even if not irrigated for a month. It can be intercropped with all crops. "Every year we have to cut the tree from bottom and only one piece is left to grow. This is because the tree will give more fruits next year," he shares the details on pruning. It grows well in all types of soil and is apt for all climatic conditions except colder regions like Jammu and Kashmir. "We have developed farm in Rajasthan and Hyderabad. These are operating very well," informs Mr. Vaishnav.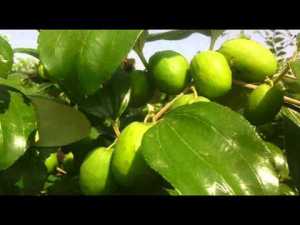 It surely is profitable for farmers to grow apple ber as after completing a year tree yields 40-60kgs fruits, in 2nd year 80-10 kgs and in 3rd more than 100kgs. "A farmer can easily earn Rs. 5lakhs/annum. It has medicinal properties hence the demand is surely to increase," he adds. Ideally it must be planted after summers as it starts flowering from September onwards and yields from January-March. In one acre 400-500 plants can be cultivated.
Green Culture Nurseries & Farm was set up in the year 2009 in Maligaon, Nasik. Different fruit plants are developed at the nursery but specialization lies in apple ber and pomegranate. Mr. Vaishnav's parents also used to run a nursery hence using his on-field experience since childhood he ventured into this business. "I know about the seeds and farming well because of my background," he adds. "Sapling development depends on the trees and grafting. There are 5-6 types of grafting."
Grafting is crucial for early yielding and long life. "If the plant is not grafted then it takes 5years to fruit. If grafted, it takes less than 6months to fruit. Life span is 40years," he explains. It takes about 10months to develop a sapling due to grafting.
Hard plants are sold at the nursery hence the percentage of survival rate is almost 100%. "We keep the young plants first in poly house then in shade net and finally we wait till the plants become hard before selling," informs Mr. Vaishnav. Mother plants of fruits variants are maintained with care at the nursery owned farm therefore it is disease free. "We are sure that we are not giving disease through the saplings," he claims.
Nursery owners and farmers are the target buyers. Apple Ber costs Rs.35/sapling and pomegranate Rs.8/plant. Plants are delivered to the customer's location if the purchase is more than 1000 saplings with minimal additional charges. "We have supplied to 37 nurseries across India like Rajasthan, MP, Karnataka, Gujarat, Telangana, Andhra Pradesh, Chattisgarh etc. We have second nursery in Gujarat," he informs. Stock of 3lakhs saplings are always maintained at the nursery. Plants respond well to organic as well as chemical farming yet organic farming is preferred because soil fertility is preserved while chemical fertilizers harms the soil.
In time to come Mr. Vaishnav wants to develop a program to improve farmers' skill and get them new varieties of saplings. "As we are facing lot of water problem, I want to find out a solution to support farmers," he concludes.
Contact details:
Green Culture Nurseries & Farm
Near Golden Dew Drinking Water Pvt. Ltd. Tehre Chowfuli, Satana Road, Malegaon, Dist. Nashik, Maharashtra (India) 423203
Phone: 08806688144
Email: greenculturenf@gmail.com
Website: http://www.green-culture.in/