Producers and exporters of ready-to-eat Punjabi delicacies. Procures raw materials from farmers on contract
"Indians living in foreign countries crave for the delicious Punjabi food. The younger generation likes the taste but doesn't know to cook! The older generation knows cooking but doesn't get the required ingredients! To keep the authentic taste alive and fulfill the wishes we decided to take our food from Punjab to different countries keeping the savor and quality intact. All the ingredients are grown by our contract farmers. We provide them with the production schedule and technical know-how," says Mr. Jagmohan Singh Nagi, founder and CEO, Golden Grain.
49 different ready-to-eat food items of Punjabi cuisine are prepared and exported to countries namely United Kingdom, Canada, United States of America, Dubai and Hong-Kong. Few products to name are palak paneer, corn palak, rajma, kadi pakoda, channa masala and so on. All these products are sold under the brand name 'Narain', "We have named it after by father's name, Mr. Narain Singh. The taste of all the products have been warmly appreciated by our consumers however 'sarson da saag' and 'dal makhani' tops our selling chart," he states. The recipe of every product is formulated by Mr. Nagi's wife, Mrs. Kiranjeet Nagi. "We are extremely particular about the freshness and quality of our ingredients because sumptuous flavor of our delicacies largely depends on its ingredients. Green leaves, vegetables and grains grown in soil of Punjab offer the much required richness to the cooked food items. We are glad our farmers are doing a great job on the fields," she asserts.
The processing plant is located near Verka, Amritsar, Punjab. "We had set up the processing plant at this site so that we can source freshly harvested green leafy vegetables from the contracts farmers in minimum possible time. All our farmers are located at the places that can be reached at the most in 1.5 hours by road," he shares. There are 50 farmers associated with the company for contract farming. Mostly the farmers are small and marginal having 1-3 acre landholding.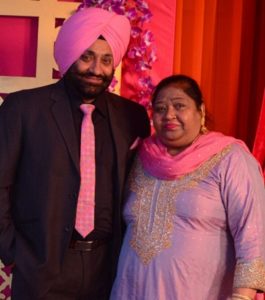 Based on the region farmers are asked to grow the particular vegetables. For example farmers having farms in villages in Gurudaspur district are asked to grow mustard, spinach and fenugreek. "This region is on the river side hence in the sandy soil these leafy vegetables grow really well. Post harvest of these leafy vegetables, next crop grown is green peas. Similarly we have specific regions for growing legume plants like channa, pulses etc," adds Mr. Jagmohan Nagi.
Farmers are given detailed cultivation schedule for the growing different crops all round the year. "We plan the production schedule in a way that there is the continuous supply of ingredients as needed at our processing plant. The farmer with 3 acre farmland grows mustard in the interval of 20 days in one acre each. So we get fresh mustard leaves in every 20 days from this farmer. In this way we get fresh supply of leaves almost every day and our processing plant runs in alliance to its' schedule," he elaborates. Except spices all the vegetables, grains and pulses are grown by the contract farmers for Golden Grain.
"We conduct trails of best varieties of leafy greens namely mustard, spinach and fenugreek on our farm at Makhanwindi village. Once we are convinced about its flavor and quality of leaves we recommend the same to our farmers. We also provide them with seeds and farming guidance especially on crop protection because we do not want harmful and poisonous pesticides to be sprayed on the crops. For example we got mustard variety from Guru Jambheshwar University of Science and Technology, Hisar. The oil content and yield of this Hisar mustard variety is much higher than the varieties grown in Punjab. As the oil content is high, when the leaves are processed the taste of saag has rich flavor. In the same way we conduct trials for other crops too," highlights Mrs. Nagi.
Similar to production schedule farmers are also provided with date for harvesting and collection two days in advance. Company's tractor trolley reaches the farm on the specified date to collect the produce. Farmers are paid through online transfer within seven days after taking the delivery of the produce. Price fixed is usually more than the market rate by 1 or 2 rupees per kg. Farmers are free to sell their respective farm produce to other buyers if they get the higher price than the one quoted by Golden Grain.
All the procured green leafy vegetables are processed the very same day to keep the freshness and aroma unharmed. Only stainless steel containers are used during the different stages of segregation, washing, cutting, boiling and cooking. "We do not add any preservatives in our food. The cans are vacuum packed. The shelf life of the products varies between 6-24 months," asserts Mrs. Nagi.
Immediate future plans are to extend the product line with specialty food items consumed during post pregnancy period to restore the health of mothers. "For these products as well the ingredients will be sourced from farmers directly. We want to improve the livelihood of our farmers in best possible way. If the farmer grows the state grows!" concludes Nagi couple.
Golden Grain was established in 2010 by Mr. Jagmohan Singh Nagi. He did his education in food processing from London. Day to day operations of the company is managed by Mrs. Kiranjeet Nagi.
Contact details:
Golden Grains Inc.
Shukar Chack Road, Verka, Amritsar, Punjab, India. 143001
Phone : 0091-0183-2265455 , 5054446
Email : info@narainsfresh.com
Web: http://www.narainsfresh.com/