Felicitated with prestigious 'Padma Shri' award for revolutionizing agriculture in Banaskantha district, Gujarat
Agriculture in India in news for all good reasons! Amongst 2017 Padma Shri awardees there is one name shining bright and resuming our faith in farming is Mr. Genabhai Patel. He has transformed severely affected drought-hit Banaskantha district in North Gujarat into flourishing pomegranate area. Today the district is recognized in the country as the major pomegranate producing region. It is all because of sincere efforts of only one man, Mr. Genabhai Patel, fondly called as 'Anar Dada'. He has been instrumental in bringing positive change in the life of more than 70, 000 farmers with one crop, pomegranate. The award is motivation for him to realize his dream of making his district, state and country to be renowned internationally in the field of agriculture.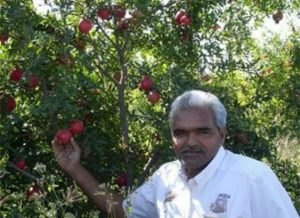 Mr. Genabhai, 52, lived a difficult life not being a son of a farmer but due physical disability. "I can't walk because I was born with polio in both my legs! Nevertheless constraints can never hold me back instead I move forward with double the speed. Farming is in my blood and I wanted to make it profitable for all," he adds. After completing his school (10+2) he was actively involved in farm activities along with his father and elder brothers. Gradually his 5 hectare farm has been increased to 17 hectare. He speaks with Agriculture and Industry Survey magazine about pomegranate cultivation, farming techniques, change in farmers thinking and future plans. Excerpts:
My parents and all other farmers in my village were only growing routine crops like cereals, pulses and oilseeds etc. It was a regular cycle of same farming activities right from land preparation to harvesting. Besides, the monetary returns were even not encouraging. I wanted to grow something more consistent and that could give production year after year with less routine intervention. Seeking the alternative I visited 'Krishi Mahotsav' organized by then Gujarat Chief Minister Narendra Modi in 2003-04. It was a fruitful visit as I came to know about pomegranate cultivation. Also I learnt about drip irrigation, the technique to use water proficiently.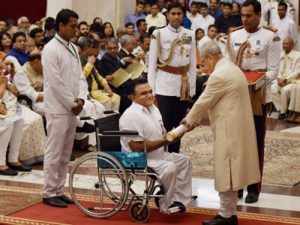 My brothers and nephews were supportive of my decision to try hands on this horticulture crops. We sourced 18,000 bhagwa variety pomegranate saplings from Maharashtra. We prepared our 5 hectare farmland with self-made compost using cow-dung and planted the saplings. It was in 2004-05. As water was scarce we installed drip irrigation to use the water wisely.
Other farmers in the village mocked upon us for growing pomegranate as no one else in district ever planted it. Undeterred we continued to look after our farm and in 2007 the all trees yielded good fruits. We earned Rs. 10 lakh profit. And since then the process is going on. We now have expanded our farming acreage to 17 hectares.
Seeing our consistent growth other 160 farmers in our village repeated our farming schedule of growing pomegranate. We started getting traders right in our village for buying our produce. News of our village success spread across the district and farmers switched to pomegranate cultivation. I am extremely glad to share today we have 30-40 thousand hectare under pomegranate cultivation. Approximately 4-5 crore saplings have been planted. Our district produced fruit is sold across the country and also exported to foreign countries.
Initially we used to plant the saplings keeping the distance 12 * 8 feet but now we have changed it to 15 * 8 feet. We increased the distance so that tractor can move easily in the farm and also it helps in harvesting. In one hectare one thousand saplings are planted. We are using pesticides during monsoon and stop its' application three months prior to harvesting so that the fruit is absolutely residue-free.
We take only one harvest a year because the quality of fruits is at its best and we earn premium price. Post harvesting we drop the flowers for next five months so as to let the tree regain the strength to produce the fruit for the next harvest. Approximately one tree yields 20-30 kg fruits. We pluck the fruits and sell it to traders. Packing and transportation is done by them.
Price varies every year. Earlier we were paid as per the grade of the fruit. Grading was done on basis on fruit size. It was a time consuming process for all hence it was collectively decided to sell the entire stock at same flat price. This year we sold pomegranate at Rs. 50/kg. We keep a constant check on the market rates to ensure we are not exploited by the traders with respect to price.
We are satisfied with the returns we are gaining for this crop. Yet to increase the yield we will be adopting bee-keeping practice that helps in pollination. And most important, our future plan is to bring another revolution in our district through dairy farming. We want to rear and breed our state's native cow 'Gir'. It is our heritage and we want to secure it in our farms. Dung and urine of gir cow is gold for farmers' fields and its milk would assure good health of farmers as well as our countrymen.
Farming has given me more than what I ever aspired for! Based on my experience I feel invest resources in the soil sincerely and it will pay you back bountiful for sure!!
(As told to Shweta Dhanuka)
Contact details:
Mr. Genabhai Patel (Anar Dada)
Sarkari Goliya Village, Lakhani Taluka, Banaskantha District, Gujarat
Phone: +91 9925557177
Email: patelgenabhai77@gmail.com