Computer professional engaged in goat farming for passion
"We started in a small way with 30 goat kids (male). We raised and sold it directly to the buyers for religious festival Eid-ul-Adha. It was Sirohi breed sourced from Rajasthan. Slowly and gradually we scaled our operations and from last year we have started with breeding too," says Mr. Feroz Shafi Khan, founder and owner Al-Mohammed Goat Farm.
The farm was initially named as FM Goat Farm. It is located at Mamdapur, Raigad district, Maharashtra. It was started in the year 2008. "Since last four years we are supplying goats for the festival Eid-ul-Adha," he adds. Farm has shed in 5000 sq.ft and rest is open space. Presently the herd size is 500, out of which 99 are females, 100 plus kids and remaining are male goats. After the age of 14 months the male goats are ready for sale.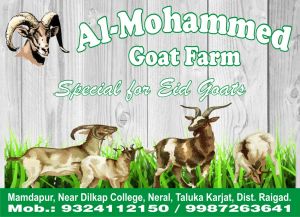 Speaking of preferring Sirohi breed in particular, he explains, "We sell goat for the sacrifice for the festival. Therefore it needs to be remarkably good in weight, height and looks. Sojat and Sirohi are the only goat breeds that are in par with these requirements. So we keep these two breeds at the farm."
The goats are from Rajasthan so the feed is sourced from the origin state itself. "This breed is very much fond of green leaves grown in Rajasthan. So we buy the same as I can't grow it at my farm due to water shortage. We get the feed once in 6 months. In one truck we get 9 ton green leaves. We get 3 trucks at one go. It is dry storage having the shelf life of one year so it is easily stored at the farm. In addition we also feed them wheat, liver tonics and calcium," he affirms.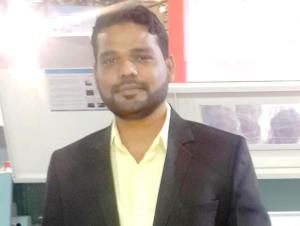 Goats are sold directly to the buyers. Mr. Khan opts for direct sales because it is good for the consumer as well as for his business. Goat trade faces extreme price fluctuations during the season. In Mumbai, Doenar Mandi is the main market for goat sale. Farmers across the country come with their goats in the mandi. When number of goat for sale is more the price drops drastically. "Majority of the goat farmers at the mandi are at loss! They have to sell the goat anyhow as they cannot carry it back with them," he elaborates. "Further, it is hub for a disease breakout. Healthy goats also get infected from one another and due to unhygienic conditions at the mandi. Mortality increases too. These goats when eaten leads to diseases in human beings too therefore consumer must avoid it as well."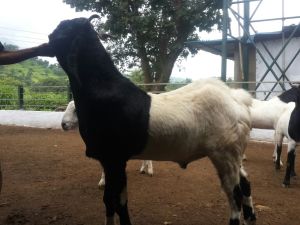 Mr. Khan gets enquiries from Facebook and social network 2-3 months in advance from Ramazan. Majority of the buyers are from Mumbai and the farm is located 90 kms from the city. "So we are able to make the delivery right at the customer door step. Our prices are affordable and value for money," claims Mr. Khan. Besides these days consumers also prefer to buy the goats directly from the farms as they too are conscious about the goat health. "Saving little money on goat purchase and then spending double the saved money on medicine and treatment is the choice the consumer has to make. I am very particular about the hygiene conditions at the farm. Every single animal is hale and hearty else I don't sell it."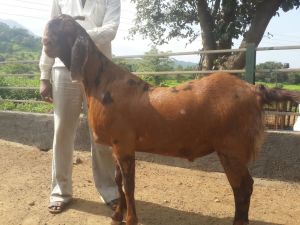 Goat breeding was taken up to expand the business but it came with its own set of problems and challenges. Mortality, managing female goats and overall farm operations were the tribulation faced. Undeterred to make it through the issues Mr. Khan took help from Dr. Survesy. "He is working at Veterinary College, Mumbai. He suggested us the vaccine for goat and visits us once a week for the overall check-up of the herd," shares Mr. Khan. With dedication and perseverance to resolve all the roadblocks, now overall management at the farm is stable and in-control.
Future plans are to expand the farm capacity to 5000 animals. Mr. Khan is a computer professional. He is working for the Mumbai based company. "Striking a balance between a job and business is difficult but not impossible. It can be attained through right time management and recruiting the committed people in the business who are reliable too. My goat farm is not extremely lucrative but at the same time it is not at loss! I am sailing through for passion …" he signs off.
Contact details-
Al-Mohammed Goat Farm
Correspondence Address: Siare Technologies, 202 Shardha Bhavan, Above Summer Harvest Hotel, Nanda Patkar Road, Vileparle, East Mumbai – 57
Farm Address : Mamdapur, Near Dilkap College, Neral, Taluka Karjat, Raigad District, Maharashtra
Mobile: 09324112150, 09987263641
E-mail: fksiaretech@gmail.com
Web: https://www.facebook.com/FmGoatFarm/