Here is the concluding part in a series of interviews on water management ideas from farmers and experts.
Food grows where the water flows! Indeed water is the lifeline of agriculture but when it stops flowing then alarms are raised as how to do farming! On the contrary there are some exclusive farming practices and water management techniques that can be implemented on the farmlands to cope with drought and similar conditions. However, it should be noted these solutions will not lead to desirable results overnight instead would demand for long term commitment to put into action sincerely without any falls outs. Consequently the changes will be beneficial for the long term for the farm and environment.
We are discussing from past two months on the worst drought our country is facing this year. In the first series, the solutions shared were low-cost groundwater recharge technology by Sankalpa Rural Development Society, Hubli, Karnataka; intercropping and livestock waste as practiced at Aranyani Farm; mulching to improve the moisture content in the soil as recommended by Dr. Jagadish Rane, drought management expert, National Institute of Abiotic Stress Management(NIASM).
The second series on the subject presented the practical solutions to grow food with available water and closely watching the weather conditions by progressive and experienced farmer Mr. R. Baskaran from Kumbakonam, Tamil Nadu; Use of indigenous seeds by Mr. Natabar Sarangi, seed conservationist and farmer Cuttack, Odisha; Lastly soil management and permaculture methods by Mr. Seed Snehal (Snehal Trivedi), practicing permaculturist, Auroville, Puducherry.
In the concluding series, we highlight on preserving rain water, plants' ability to fight drought conditions and role of micro organisms in this process. In addition we discuss about the various ways of managing and conserving the rainwater. Lastly farmers should stay alert and must not be carried away by few offers proposed. These are the learning and experience of farmer Mr. Kailash Murthy and organic farming advisor Dr. Ambika T.
Mr. MK Kailash Murthy
Shares natural solutions for conserving rainwater
"I have observed the water depletion in my farm going down from 10 feet in 1964 to 35 feet in 1984. The reason was scientific farming that implies use of chemical fertilizers, pesticides, insecticides and removing the naturally growing weeds. With continuous ploughing and tilling the natural microbes disappeared and the soil health deteriorated to the extent of losing its nutrients and water retention ability. So I moved to organic farming from 1985-1987. Finally, by God's grace I started natural farming from 1988 after reading one straw revolution by renowned agricultural scientist Mr. Masanobu Fukuoka. Then after, I was never worried about drought, floods or any other calamities. Inspite of having absolutely no groundwater in my farm by the year 2012 yet my farmland survived it all and my food security is intact," says MK Kailash Murthy, banker turned natural farmer and environmentalist.  His 10 acre farmland is located at Doddinduvadi village, Chamarajanagar district, Karnataka.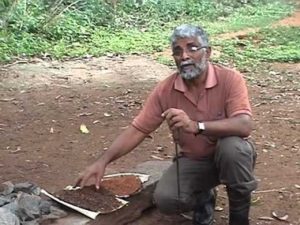 Paddy, seasonal vegetables and fruits are grown in his farm. There are lots of medicinal plants in his farm that he insists have grown on its own. "Nature will select on its own as what medicines it needs for its survival and it grows through some means. I believe in the system wholeheartedly and never remove any plant from the farm that has sprouted on its own," he states.
Mr. Kailash has hands-on practical experience in all three forms of farming viz chemical based farming, organic farming and natural farming. He says, "Out of all three agricultural practices I strongly believe natural farming is more sustainable because it is in alliance with nature. We humans do not have any power to fight for or against the Mother Nature. Hence to save the world from all catastrophes' it is better to get alert and immediately adopt natural farming. Mother Nature knows it all and it is best to leave everything in her care!"
The solutions Mr. Kailash prescribes are extremely simple that needs to the implemented with 100% belief. "I have been practicing these solutions in my farm since 1988 and have a complete food security round the year. Also my farmland has been able withstand the tribulations in any and there are no worry about the disease or pest attack," he adds. The measures mentioned below to cope with water scarcity ensures the rainwater is conserved and crop cultivation continues.
Less Human Interference
Farming is a natural process that should be allowed to be on its own! Human interference in the process of growing food should be as less as possible. It means no ploughing, no fertilizers, no weeding and no tilling. It allows the crops to grow naturally and produce food. "It is an established fact that like human beings plant needs food and water to grow. To make food plants take sunlight and carbon dioxide from the atmosphere and absorb water from the soil. This process is called as photosynthesis. More than these three natural resources there is nothing required for the plants to grow. Then what is the need for adding the fertilizer/manure or any other agri input? With less human interference there will be no drop in the yield instead the production will increase in the routine manner," asserts Mr. Kailash. He is able to harvest three tonne of paddy from an acre! Mango and papaya production is always bumper crop every season. It proves without fertilizer high production can be attained.
Rain Water Percolation
Every drop of rain water is precious and it must never flow off. It is imperative to conserve the rainwater within the farm. Developing a rainwater harvesting pond is certainly a good measure but a small and marginal farmer with less than 2 acre land holding definitely cannot build a pond but needs to harvest the rain water! Such farmers should go natural suggests Mr. Kailash.
In order to ensure the rain water percolates in the soil there must be good population of micro organism in the soil. "In macro level the organisms living inside the subsoil play an important role than the earthworms. These organisms are red ants and termites etc. When these organisms move inside the soil, it makes very tiny holes as their home and its' movement in the soil creates the long pores. These organisms frequently move out their spaces but the holes and pores are left undisturbed. Finally when there is rainfall the rainwater percolates in these holes and pores and the groundwater is recharged in most natural way. In this way rainwater is harvested 100% in my farm without any efforts," he explains.
Bio-Diversity
The farm becomes self-sustainable when millions of different living souls live together. Every soul needs food and plant is the only source of food for these organisms. "Therefore it is important to grow food for all then none of the organism will ever touch human food. Trees all around the farm are the best way to provide food for these organisms," he highlights.
When asked as how bio-diversity will help in the water absorption and conservation, Mr. Kailash clarifies, "When millions of organisms are living in the farm obviously due to its' excreta the organic matter will increase in the soil. This organic matter is referred as organic carbon. And when the organic carbon in the soil is more then the water retention capacity in the soil is also more."
Vegetation
The surface of the farmland must never be exposed to the sun directly. "To do so there is vegetation on my farm for 365 days. It can be in any form be it the crops I plant or the weeds. In this way the water evaporation is almost negligible. Also there is live mulch on the top soil that ensures perfect maintenance of soil microbes and pathogens. It then boosts the soil fertility and growth of the crops," he elaborates. Soil is not disturbed at all with 24/7 vegetation on the farmland. "Water evaporation takes place everywhere even in rivers and lakes but not in my farm."
No Heavy machinery
Heavy agricultural machinery must not be allowed to enter the farm at all as it increases the pollution in the environment. Also the machinery wrecks the farm in place of boosting the cultivation. When driving machinery on wet soil, it damages topsoil and subsoil plus the organisms living inside the subsoil die. When the heavy machinery moves in the farm it leads to soil compaction. With soil compaction it means disturbing the soil density and its' porous system. As a result soil is susceptible to erosion and water retention ability is lost. Soil compaction leads to permanent damage in the soil.
Along with water conservation these above measures also multiplies the soil fertility. "The crops grow well and require less water in the fertile soil. Subsequently the food production also increases. Everything is inter-related in the natural farming. At the moment we are concerned about water scarcity and ready to implement solutions for conserving rainwater but by going natural everything is taken care off. The entire ecosystem attains the balance, recommences its foundation and starts functioning smoothly. Hence it is crucial and need of the hour that every farmer stops using chemicals and other man-made inputs in farming. It would not only resolve the drought or water scarcity issues but also set the life on the right path," concludes Mr. Kailash Murthy.
Contact details:
Mr. MK Kailash Murthy
Academy of Natural Farming
At Post Doddinduvadi Village, Kollegal Taluk, Chamarajanagar District, Karnataka
Email: kailashnatufarm@gmail.com
Dr. Ambika T
Drought is the most scary time period for the farmers as he is surrounded by the despair and desperate to find water. "Without water farmer is clueless about his work and stressed as how to pay back the debt!" says Dr. Ambika, advisor on organic farming and pest control.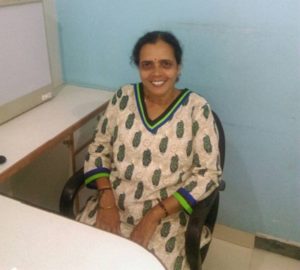 Drought is the most scary time period for the farmers as he is surrounded by the despair and desperate to find water. "Without water farmer is clueless about his work and stressed as how to pay back the debt!" says Dr. Ambika, advisor on organic farming and pest control.
Dr. Ambika provides assistance on crop protection and boosting the crop yield to the farmers engaged in chemical free farming. Speaking on ways to cope with water scarcity she says, "Organic farming brings back life on the farmland as by using cow based farming inputs and mulching the population of microbe increases. Subsequently soil fertility is increased and its efficiency to hold water also increases. Therefore, when there is water scarcity it is better to focus on reviving the soil. To do so apply good amount of compost and live mulch on the farmland so that even with light/medium showers the soil gets nourished to give bumper yield in next season. It shall compensate the loss during dry season," she highlights.
The scarcity of water has raised the need to use water efficiently. Selection of the right crop can also be helpful in efficient water management. Water required by the plants to grow varies. It is referred as Water Usage Efficiency (WUE) that can be explained as ability of plants to produce more biomass with less water. "There are some plants that need more water while the other require less water and produce more biomass. These are the plants having high WUE. Such plants can be selected by the farmers when water is scarce. Agriculture Universities shall be able to provide the names of such plants suitable for that particular region," informs Dr. Ambika.
There some plants having the ability to fix the nitrogen in the soil with minimum water. These plants need to be grown on the bunds during the dry season instead of leaving the farmland ideal. "Plants namely peguminia and simarouba glauca (also called as paradise tree) are very effective in enhancing the soil properties. Few plants on the bunds are sufficient to fix the soil. One plant of each can be grown in half acre. That is the approximate ration. The soil then would augment the crops' innate ability to fight the water scarcity and diseases. For example in the paddy crops, just above the soil the crop would have very thin hair like structure that are powerful enough to ward off the pest if any and gives strength to the crop to grow irrespective of less water. In addition the paddy grown on the plant has a wax-like coating that prevents transpiration and holds the available water in the crop," she asserts. Peguminia and simarouba glauca saplings are normally available with the agricultural universities or department of agriculture or forest nursery. "These are very cost effective too."
Village community must also dig the trenches on the hill slope or ponds in their villages jointly. These trenches and ponds will hold rainwater from flowing away and recharge groundwater. "If they all work together then they can multiply their ability to fight with drought and also get the strength to pass through the tough times," states Dr. Ambika. It is the perfect model for all the farmers having less land holding.
"I know during drought conditions farmers are anxious on food production in their fields yet the laboratory treated drought resistant seed varieties that are quoted to give good yield must not be used. There is s high probability seeds do not yield as they are presented and the results are not very encouraging. Hence ultimately the farmer is at loss!" she asks to the farmers to be vigilant on seeds used for cultivation. Artificially developed seeds cannot be compared with indigenous seeds. Indigenous seeds are desi seeds that came into existence naturally many years ago. These are in alliance with the soil and would yield much more than the laboratory treated seeds.
She concludes, "Soil plays a very important role in farming when the water scarcity is on its peak. If the soil is healthy then it would give immense strength to the plants to grow irrespective of all odds. Thereby farmers must not leave any stone unturned to improve the soil quality. Be as natural as possible and stay alert with respect to care and look after of the soil then farmers would win always. If our farmers grow then only our nation would grow. They are the backbone of our survival!"
Dr. Ambika holds PhD in Agriculture, specialization in entomology. She has worked in different verticals of farming such as crop protection, molecular biology and pest control. Presently she has diversified in chemical free farming. She has moved towards chemical free farming for obvious reasons that are good health and safeguarding the environment.
Contact details:
Dr. Ambika T
Mobile: 09449656699
Email: ambika@krishhi.org
Conclusion: Problems occur all the time but there are solutions to resolve the same. Water scarcity has been a suffering for past few years. Around the world people are working constantly to find the solutions. In our three part series we have brought the solutions suggested by the experts and practices of the farmers to fight the water scarcity. These are worth trying. There is no harm in using others' experience and bring change in the farming. All the measures mentioned are less capital intensive and leads to the best results that shall last for long time.
It has been proved many times that use of chemical based farming inputs and modern methods of farming are not good for the soil, food produced and environment. It might be easy to throw chemicals in the field but at what cost? Hence sooner the better go back to the ancient ways of farming. If done with honesty and 100 % belief the tough times like drought would pass and doors for prosperity and growth shall open. It is possible!!
(Our Correspondent)