Develops new farming technique to revive soil fertility and grow food in natural way using soil from jungle
"Our food connection is disconnected from the jungle that is why we are losing the fertility of the soil. In every 10years we are losing 18% agriculture land to desert! This is the world statistics! To grow food for the growing population it is mandatory to turn the farmlands into jungle. By following the rule of thriving three it is possible to grow food with zero-production expense. I refer it as 'Kaadu Krishi' or 'Jungle Farming'," says Dr. Khadar Basha. He researched and standardized this technique of farming on his return from America. Foundation of Kaadu Krishi is 'Thriving Three' that are (1) develop forest, (2) procure forest soil and prepare Kaadu Chaintany, (3) grow multiple crops.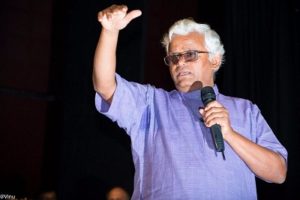 His 7.5 acre farmland is located near Kabini Dam, H. D Kote taluk, Mysuru district, Karnataka. He started working on Kaadu Kirish in 2009 on 4 acres area. In eight years he has developed a bio-diversified jungle for farming in which food is grown for all living organisms without using any agri inputs. "Neither chemicals nor organic (cow based) farming inputs are required. Food is grown for all only by spraying jungle soil in the farmland having multi-crops," he insists.
Dr. Basha strongly feels that with use of modern agriculture the soil fertility is being lost. It is hazardous and sooner the farmer discontinues the better it is! He further adds, "If the problems in farming have to be solved then develop the forest in the farm as soon as possible."


To do so, he planted the trees that rule the forest in a systematic way along with fruit producing and built bunds and trenches to harvest rain water. "These are fast growing forest trees and produces huge biomass. In no time our farmland got filled with green manure. Next to uphold the bunds we planted drumsticks. It takes 3 weeks for the stem to develop into roots. After these initial steps we went back to the forest namely Bandipur, Nagarahole (as it is near to us) to get the fistful of soil to prepare the miracle spray 'Kaadu Chaitanya'," he shares.
Kaadu Chaitanya is the mixture of all the microbes that have been in the jungle for the uncountable years. "By spraying this spray the balanced condition of jungle's microbial flora is created in the barren land in 3-5months. Subsequently the crops grow well and yield attained is high," he adds.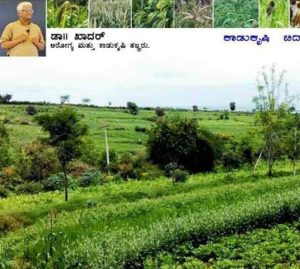 When asked about identifying and sourcing the forest soil having good microbial culture, he says, "It is very simple! Take the soil on the palm and smell. There will be unique smell of the soil. To source it one needs to be in touch with the forest officials. We got fist full of soil from the forest official. Next we reproduced the microbial flora from that culture. We are distributing a bottle of Kaadu Chaitanya in Karnataka for free."
The procedure to produce Kaadu Chaintanya," We have an earthen pot of 30litres kept under the soil. In this we first fill jungle soil in the bottom of the pot. Next add 30litres of water, quarter kilo of any monocotyledon flour (foxtail millet/ragi/ jowar), quarter kilo of dicotyledon flour (horse gram or Bengal gram) and 50 gram jaggery. Over a period of 5-7days, we will have 30litres Kaadu Chaitanya. It is adequate for 30 acre farmland," he explains. 1litre of solution is sufficient for 1acre. "To apply on the farmland, 1 litre Kaadu Chaitanya is further diluted by adding 20litres water. It is then sprayed in the evening after sunset. Post spraying microbes start spreading in the soil overnight in the dark.
Speaking of number of dosage he says, "If the soil is contaminated immensely with pesticides and chemicals then spray the solution once in a week for a month. If the soil is left uncultivated/barren for long time then after spraying Kaadu Chaitanya the soil will begin retaining the fertility within a month."
Apart from spraying Kaadu Chaitanya it is compulsory to grow multiple crops. "It must be a good mix of grains, pulses and vegetables. I decided to grow the food grains that require least amount of water. These are called Siri Dhanya (5 grains) namely Aarka, Saame, Navane, Udalu and Korle," states Dr. Basha. To cultivate one kg of any of these five grain variants all it requires is 200-300litres of water on contrary to paddy that needs 8, 000litres water, wheat – 10, 000litres water and sugarcane – 28, 000litres water. With Siri Dhanya cultivation there will be no pressure on water resources. 200-300mm of rain will be sufficient to grow these crops. "Along with these five grains we also grow lentils, dicotyledons (horse, green grains), oil seeds like sesame seeds, groundnuts seeds. When all these multiple seeds grow together it makes the soil so fertile that the crops do not need any fertilizer, manure, insecticides or pesticides."
Practicing Kaadu Krishi Dr. Basha could develop a flourishing and self-sustainable jungle in four acre. "Sustainability comes naturally from the developed forest in the farm. We do not need anything else! In our 4 acre area we are able to grow food for 50-60 people. We cultivate 20-25 food items simultaneously," he claims. In addition the crops develop good resistance from pests and diseases. In case of non-availability of forest soil farmers can also swap the soil of farmlands near the forest.
He concludes, "I am not bothered about the yield but deeply concerned for soil fertility and food sustainability. Food produced in my farm is never sold out in the market. My main aim is to share intricacies of Kaadu Krishi with the farming community so that the livelihood of farmer is improved and no on lives without food."
Dr. Basha holds PhD in bio-organic chemistry. He has done immense research in genetical engineering and environmental detoxification studies. He was in America for 9-10years but opted to returned back to his roots in late 2000 with aim to grow healthy and nutrient rich food.
Contact details:
Dr. Khadar Basha
965, 14th Main, 4th Stage T.K. Layout, Mysuru – 570 009
Phone: +91 9448561472