Provides price forecast for 24 crops through market intelligence to help farmers sell profitably
Domestic and Export Market Intelligence Cell (DEMIC) was established under the Directorate of Centre for Agricultural and Rural Development Studies (CARDS), Tamil Nadu Agricultural University in the year 2004.The main purpose of DEMIC is to develop and disseminate commodity price forecasts for the benefits of farmers to get remunerative prices besides use of such market intelligence for taking better farm management and marketing decisions.
The Director of CARDS is the principle authority when it comes to administration and the Principal Investigator is in charge of the technical aspects of DEMIC. The organization usually comprises of 5 scientists, 8 research fellows and 2 administrative staffs.
Currently the organization makes forecast for 24 major agricultural and horticultural crops of Tamil Nadu."At present, we are generating price forecasts for the state of Tamil Nadu only," clarifies Dr. M.Chinnadurai, PhD, Director, CARDS. "Since inception, DEMIC has generated more than 400 price forecasts with more than 90 per cent validity often."
"It will take nearly 3-4 weeks for generating price forecast for a single crop," shares Dr. K.M. Shivakumar, PhD, Principal Investigator (DEMIC). "Often, the validity of the DEMIC price forecasts is more than 90 per cent." However the figure varies across the country due to the geographic differences. Data structure, tools and methods are the same everywhere for price forecasting however, "Assessing the market fundamentals and quality parameters are unique for regional or global markets," he adds.
Price forecasting tools such as moving averages, seasonal indices, single exponential smoothing, double exponential smoothing, co-integration analysis and models like ARIMA, ANN, SARIMA, ARFIMA, ARCH, and GARCH to the real time market data are used in the project. Time series data on the commodity prices for the crops are subjected to statistical and econometric analysis using appropriate software packages. Then, using forecasting tools, the best model is chosen and validated through various rounds of farmers and traders survey.
The required input data includes commodity prices, market arrivals, quality parameters, buffer stock, exports and imports position for a specific commodity with reference to selected markets. The required information are collected from regulated markets, major spot markets, futures markets, global or national commodity outlooks, commodity reports and farmers shandies.
The price forecast is available for free for both farmers and commodity value chain participants ranging from production to trade, officials, scientist, policy makers etc. The forecasts generated are distributed through Agro Marketing Intelligence (AMI) and Business Promotion Centre (BPC) functioning at Tiruchirappalli, mass media, e-mail and sms.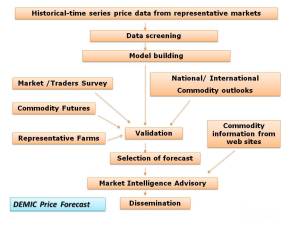 Dr. Shivakumar assures, "We presume that the price trend is subjected to production, market and weather related risks all along and our forecasts rarely failed to deliver." While determining the price no discrimination of the commodity is done on the basis of organic or inorganic nature. However the organization hopes to "Pursue this idea in future as there is a strong consumer movement for organic crops," he adds. No price forecast is provided for export markets at present.
DEMIC also makes recommendations on storing or selling the stock to earn maximum depending on factors such as domestic area and production, buffer stock, market arrivals from other states, festive demand, monsoon pattern and distribution etc.
The organization faces great challenge regarding recruiting and training of research team in the field of time series forecasting as most of the already trained research staff found better job market opportunities outside. "We need to induct new research staff as and when required," says Dr. Chinnadurai.
"We like to have a national platform to do our service in more areas with respect to market intelligence for domestic and export markets," concludes Dr. Shivakumar. In addition to the DEMIC also plans to provide supply chain intelligence for major commodities and product specific intelligence for the Farmer Producer Organizations (FPOs) in near future.
Contact details-
Domestic and Export Market Intelligence Cell
Tamil Nadu Agricultural University
Coimbatore 641003
directorcards@tnau.ac.in
Phone: 0422 – 66112390422-2431405 98940 99007
Email: directorcards@tnau.ac.in , shivanomics@gmail.com
Web: http://www.tnau.ac.in/cards/demic.html