Reaps good fortune from growing and processing shatavari roots
"Farming is our ancestral business. Initially we were growing the traditional crops like wheat, paddy and sugarcane. However I wanted to increase the revenues and bring some positive change for other farmers too. Therefore in 2010 we grew shatavari medicinal plants on trial in just one acre. Results attained were encouraging! Convinced with the growth potential of this medicinal root we consistently expanded our operations by increasing the farming acreage and setting up the full-scale processing plant," shares Mr. Dharmendra Sahay Gangwar, 36, progressive farmer from Bareilly district, Uttar Pradesh.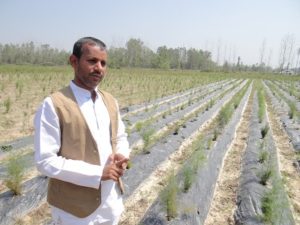 Mr. Gangwar's farm is located at Kaziapura, Rampur, Uttar Pradesh. Shatavari is the main crop grown in the farm however he also has mango orchard and continues to grow wheat and paddy in small areas. "Our main focus is on shatavari because the climate and soil conditions of our region are apt for the crop. Besides its demand is constantly increasing and the profits earned are much higher than the grains and pulses," he adds.
In 2010, the seeds were sourced from Bangalore, Karnataka. "We got good quality seeds for our one-time purchase and then after we develop our own planting material. Now we sell shatavari planting material to other farmers as well. We want to grow the business therefore we are always ready to help others who are interested in growing this medicinal plant," he asserts.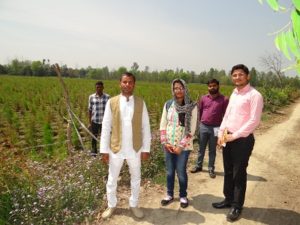 Shatavari is 2.5 years crop, 8 months for developing seeds into root suckers, 18 months for cultivation in the fields and rest 4 months in processing. The compost is applied at the rate of 6 trolly / acre (20qtls/trolly) and bio fertilizer (Delza) at @ 18 kg/acre (twice). The harvested tubers are then processed before selling. It is quite a detailed process that begins with washing. "Every tuber is washed to remove the mud on the washing line and then separated manually. Once again washing is done of the separated single tubers and then pushed in the furnace for boiling. After cooling, the tubers are peeled and later dried in mechanized dryer. Finally it is packed for selling," he explains.
As the cultivation and processing time is long for the crop, "We have planned our plantation in a way that we get the production every year thereby trade is continuous. The farming land is divided into two divisions. When the crop is being grown in one farmland, in other division we grow green manure in order to nourish the soil and replenish the nutrients. The green manure crop is mulched back in the soil. When the green manure crops are cultivated, for the next season of shatavari we prepare the root sucker in the nursery. Thus rotation continues enabling us to have the production every year," he states. Post harvest the plant residue of shatavari is collected in a pit and by adding beneficial microbes it is converted into compost which is then applied as manure in the fields.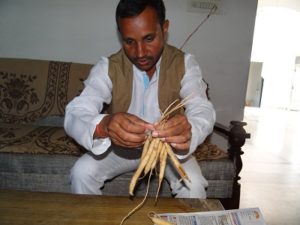 In seven years of shatavari farming tenure Mr. Gangwar has obtained nearly 1000 quintal raw roots in his farms. By further processing, he obtained net 300 quintal of dry processed shatavari roots having the market value of Rs.20,000 – 55,000/quintal. He is producing best quality shatavari dry processed roots sold directly to the manufacturing companies namely Patanjali and Himalaya. In addition he also sells the roots in local and regional agricultural market. "Selling the produce to big companies has its own pros and cons. They pay us higher than the market rate but they hold back the payments for nearly two months. So the delayed payment schedules may not be in the favour of farmers especially small farmers," he highlights.
When asked about the advice to other farmers intending to grow shatavari crop, he responds, "Profit earning prospect in shatavari plants is good and demand is high but it is an extremely labor intensive crop. In my farm, we have employed 20 permanent laborers and in addition every day we call for 150 laborers to do the routine work in the fields and processing plant. Mechanization is not possible throughout the process because in some tasks manual intervention is mandatory. Secondly to sell to bulk buyers farmers must have the bulk quantity else by selling small quantities to middleman will not be profitable."
Sharing his future plans, he concludes, "I want to become country's biggest supplier of shatavari by diversifying into trading in the domestic market and exporting in international market. People in our region have gain expertise on cultivating the crop so we want to encourage them to take up the cultivation and we shall buy their farm produce, process and sell. We shall ensure to pay them upfront so that they can continue farming without any hurdles. Medicinal plants have the ability to improve farmers' income. It must be explored more!!"
Mr. Gangwar holds Master Degree in Environment Science from Bareilly College, Uttar Pradesh.
Contact details:
Mr. Dharmendra Sahay Gangwar
Farm Address: Kaziapura, Tehsil Milak, Rampur, Uttar Pradesh
Phone: 0581-2301181 (Dr B.P. Singh – Principal Scientist, KVK, Izatnagar)
Email: kvkbareilly1985@gmail.com