Home within the tea plantation
Connect with the nature! Rejuvenation from routine hustle and bustle! Relaxed Holiday! Memories with near and dear ones! Devashola Homestay promises it all to its guests in the picturesque environment far away from the urban India.
Devashola Homestay is located within the Coonoor Taluk, the Nilgiris District, Tamil Nadu. "It is a part of our tea estate The Devashola(N) Tea Estates. The estate was set up in February 1929. Our estate spreads over 600 acres. We started homestay commercially in 2008," shares Mr. M. Lakshman, Managing Director.
The estate has fantastic view of Nilgiris and Kerala mountain ranges. "It attracted many of our family and friends for a stay. They all used to enjoy the serene surroundings! This encouraged us to add on homestay as a new business venture to our existing tea plantation," Mr. Ashwin, Executive Director, defines the drive behind commencing the eco-tourism endeavor. "Besides we also wanted to make use of the idle infrastructure to best of its possibility."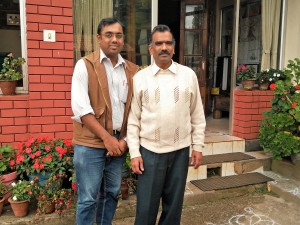 The facilities at the homestay are rustic yet very comfortable for the guest. "All the basic requirements are being well taken care off just as at home. The main attraction of our place is treasured experience with nature. We serve pure vegetarian food to our guests," asserts Mr. Lakshman. Families are the target customers. "We also receive many bachelors from within the country and outside India but primarily it is getaway for the families residing in cities." Commonly 3 days and 2 nights is the preferred stay period however there are some guests who like to stay even for 10-15 days. Maximum occupancy is 60 people.
Colonial estate bungalow and row rooms are the two types of staying facilities available at Devashola Homestay. Bungalows are independent cottages having individual spaces such as kitchen, drawing room, dining, bedrooms and private lawn whereas the row rooms have common kitchen, drawing room, dining and lawn. "There are three different bungalows namely Mango tree, Sultana and Pallaniappa. Guests who come in group and want to stay together mostly opt from bison valley and madawa row rooms," shares Mr. Ashwin. All these five locations are approximately 0.5-1 km far from one another. "We have different staff and cook for each respective location. They are trained well to take care of the guests throughout their stay with us," he adds. HR strength of the estate is 150.
During the stay, guests engage themselves in trekking, yoga sessions, safari and meteorological centre visit. Trekking is the major pull of the place. "The trek goes to the Sengutraian peak through the tea fields and forest area. It is an interesting trek that also requires to cross some streams. The difficulty level is from moderate to difficult. Anyone can do this trekking. Further if guests want to make it challenging then we take a different route," elaborates Mr. Ashwin. "Our Yoga Guru , Yogi Vinod Kumar is from the "Guru Parampara" of Swami Shivananda of Rishikesh. He conducts his retreats and teaching programs at Devashola."
Safari is the tour to the tea and coffee plantation. "In addition, we are growing spices like pepper and cinnamon. We also have floriculture in some stretch where we grow the flower 'bird of paradise'. Guests can have a look at our farming activities," says Mr. Lakshman. Yoga sessions are arranged on request. Meteorological centre is good learning source for the kids! They get the opportunity to see how different weather conditions are measured and predicted such as temperature, wind, sunshine, rain and humidity etc. Provisions to play few games such as badminton, cricket, carom and chess are also provided. Arrangement for the camp fire is also done as asked by the guests.
It is word of mouth publicity that brings in visitors to Devashola Homestay. "We have many repeat guests who come along with their friends and family. They also suggest our place to other people. So far we have not done any marketing to promote our homestay. It is an exclusive publicity from them," shares Mr. Lakshman with a pride. Reviews on trip advisor also help in bringing new visitors. Mostly all the year round during the weekend the cottages and row rooms are occupied. Nonetheless, in the period March-June occupancy is close to 100% even during the weekdays. "We receive guest in September, November-January as well," he adds. Devashola Homestay is well connected through roads to the nearby cities Ooty (39 km) and Coonoor (25 km). On request pick up and drops to railway station or airports can be arranged.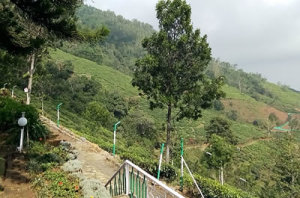 In time to come plans are to include some adventure sports with tie-up with nature exploration facilitators. "We shall soon have the bird watching activity. We also want to have tenting within our protected area. All our locations have solar fencing giving protection from wild animal and outside miscreants if any. All our plans to add-on more activities at the property for the homestay guests are in compliance with the environment. It surely will be eco-friendly as we don't pollute the nature," avers Mr. Lakshman and concludes, "We have created home away from home for urban dwellers. Our main aim is to provide them an opportunity to live close to the nature and experience the purity that is surely unattainable in cities where everyone is just running behind something! Devashola attempts to revive life that is filled with peace and tranquility. Stay and feel!"
Contact details:
The Devashola (N) Tea Estates Co Ltd
14, Clovelly East, Club Road, Coonoor – 643 101, Tamil Nadu
Phone: +91-0423-2285246/245
E-mail: info@devashola.com
Web: http://devashola.com/