Processes Mangalore grown coconuts into value added products for skin and body
Coconut is a magical agricultural commodity packed with many nutrients not only for internal body organs but also for skin, strongly believes Ms. Kaavya Nag, founder, Coconess India. "We are making best use of miraculous properties of virgin coconut oil by processing it into health tonics and body care products. We produce virgin coconut oil from Mangalore grown coconuts. The entire process is 100% natural," she adds.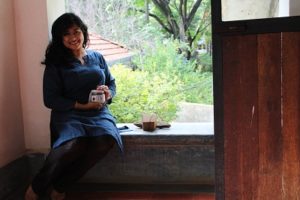 Karnataka, Bangalore based Coconess India sources best quality of coconuts from Mangalore and develops multiple products for skin and body care along with health tonics. In all there are 17 different products in company's product portfolio.
The coconuts are procured directly from the farmers without any involvement of middlemen. "The crucial requisite we have in our procurement protocol is that the coconuts must be produced naturally without using any chemicals or pesticides etc. In addition it must be plucked at the right time, not too early, not too late. We visit the farms to check the cultivation process and only when satisfied with the quality, the purchase is made," she says.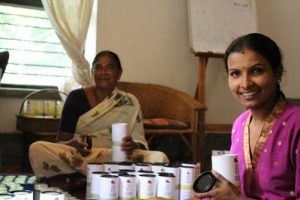 When asked about the miraculous properties in coconut, Ms. Nag elaborates, "Coconut oil contains two fatty acids that are extremely beneficial for health. These are lauric acid and capric acid. Capric acid is extensively used in antifungal medication while lauric acid provides immunity and metabolism. Lauric acid is even present in Mother's milk in high amount. Thus coconut oil is not less than a wonder crop. Unlike pharmaceutical companies we do not isolate these two vital fatty acids and sell it at high price instead we ensure all our products have good amount of lauric and capric acids intact in its composition," she asserts.
One processing unit is in Bangalore while the extraction unit is at Puttur, Mangalore. "We opted for Puttur because we use Mangalore grown coconuts for our products. Coconut from this region is best in quality and fulfills our requirements precisely high content of lauric and capric acid. We extract the oil in Mangalore and bring it to Bangalore to formulate it with other natural ingredients to produce various products," states Ms. Nag and adds, "We have special containers and specific requirement for the shippers to ship the coconut oil from Mangalore to Bangalore, to ensure that the product is not damaged. Shelf life of coconut oil is 2years. After shipping from Mangalore, we process it in Bangalore. We do not store the oil for more than 15days." The oil is produced as per the requirement and stored in steel drums.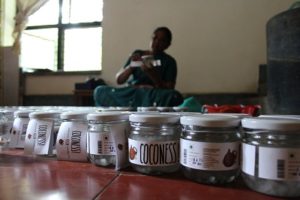 Every month 1000 liter coconut milk is made at Coconess India. "It takes 20 coconuts to make 1litre of milk in our method. Later we process coconut milk and make virgin coconut oil," she says. The oil is made using cold press technology. The entire process is chemical free where no additives/activating agents/bacteria/chemical compounds are added to aid the oil extraction. The technology has been designed and developed by CFTRI, Mysore and CPCRI, Kasargod (Kerala). "The milk is subjected to cold press wherein humidity and temperature are controlled. Subsequently oil comes up naturally in the extraction vessel and it is collected," explains Ms. Nag.
Coconess India has a good customer base that regularly place the orders for soaps and health tonics. The price varies from Rs. 185-1100. The price depends on three factors namely ingredients used, bottling or packaging and market's willingness to pay. We look at a combination of all these and fix up a price. We are very particular in packing, we use bottles and avoid plastic. We tried really hard to fix the bottle packing," she highlights. The products are sold in organic stores across Bangalore as well as few boutique retail stores around India. These are also sold online on company's online store and Amazon.
Speaking of coconut being identified as high cholesterol product, Ms. Nag clarifies, "It is a misconception! If it was true then how come coconut oil is sold in huge quantity in Europe and America? Even sale of our products is satisfactory and it is increasing day by day. People around the world are well aware of medicinal properties of coconut hence demand is on constant rise."
Sharing the future plans at Coconess India Ms. Nag concludes, "We want to capture more market in Bangalore and rest of the country. We are looking at export too. We want scale up maintaining the quality of our products. We want consumers to have best of coconut's magical properties through our products!"
Ms. Nag holds masters in biology and conservation from the National Centre for Biological Sciences, GKVK Bangalore. Prior to adorning entrepreneurial hat she had worked in various Government and Non Government sectors.
Contact Details:
Coconess India
No. 65, Singasandra, Off Hosur Road, Bangalore – 560068
Phone: 080 4101 0425
Email: coconessindia@gmail.com
Web: http://coconessindia.com/