Offers 500 different varieties of plants. Specializes in mango, jackfruit and guava saplings. Also provides knowledge share on organic farming practices
"Diversity in farming is vital for endurance. To provide access to crop diversity I maintain different varieties of plants in my nursery. I have an array of 500 different plants that includes ornamental and fruits saplings. In fruits group, I have 17 varieties of mango, 4 for guava, 5 for coconut and so on," shares Mr. Sandesh Kulkarni, Founder, Avishkar Nursery.
Avishkar Nursery was set up in 1997 at Mangaon, Maharashtra. Wide assortment of ornamental and fruit plants are always available at the nursery. In fruit plants, variation with respect to the age and height of the sapling is also offered. "I have plants from 1-5 years old and 1-10 feet height. I usually advise farmers to purchase 2 years old saplings as the survival rate is close to 100%. In addition it is much more financially viable for commercial farms because more than 2 years saplings are priced higher," he asserts. 2 years plus plants are apt to fill in the space, "Suppose in a row, if one plant is removed due to any reasons then to fill that empty slot, 2 years plus plants are used," he explains.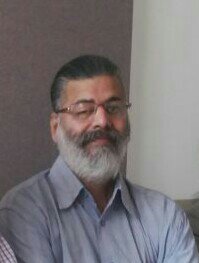 These days' fruit plants are most in demand such as mango, coconut, jackfruit, sapota and guava etc. In mango, alphonso always tops the position however kesar is recommended by Mr. Kulkarni for commercial farms. Citing the reasons he says, "Production in kesar mango trees is more than the alphonso. Fruiting takes place every year unlike alternate years in alphonso. Natural sweetness in kesar mango is remarkable. Besides, alphonso is king of fruits so must be treated like a king! Further alphonso enjoys good demand and fetches high price in consumer market but the traders earn more profits and farmers hardly gets their share therefore they must focus more on kesar variety."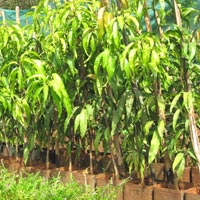 In jackfruit, nursery offers gum-less variety. In this particular variety the fruit is big in size, has small seed and very sweet. Most imperative the fruit is free of stickiness which is commonly found in jackfruit. It is quite popular and farmers are happy with the yield. At Avishkar nursery, 100-150 plants are always available for sale but for more numbers it is better to pre-book the saplings. Prices are in compliance with government fixed rates and Mr. Kulkarni maintains price flexibility keeping humble consideration for buyers' economic competence. "My relations might start as seller-buyer but it turns into eternal friendship because I give my nursery plants to meet the farmer's requirements and not to earn profits," he adds.
Mr. Kulkarni also provides consultancy on chemical free farming practices in and around Mangaon. "I prefer nearby locations because it is practical to visit the client's farm frequently that fulfills the purpose and objective of consultancy service. I don't take far off located farms for consultancy because one visit in a year does not attains the desired results and it becomes a money-making activity which is against my principle," he adds.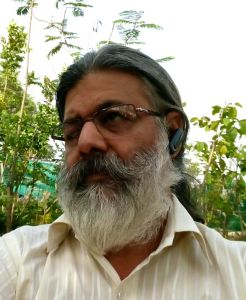 When asked compared to chemical based farming organic farming gives less yield, he promptly responds, "The purpose of organic farming is not to get the bumper crop! The main objective of organic farming is to make the farm self-independent. Moreover, in this farming practice all natural elements are related to one another such as soil, water, climate, birds, crops and so on. If a particular region is suffering from drought then how a farm can have high production even if it is 100% organic? It is unattainable expectation. However, this practice ensures survival and solutions to all problems. For example, the soil in Konkan belt lacks phosphorous. To meet this requirement bone meal based compost must be used. Similarly to fulfill the inadequate boron content in the soil, goat dung should be used. In this way organic farming practice provides precise solution for every farming problem. If the right solution is implemented then organic farming is successful. It is a continuous learning process."
Mr. Kulkarni concludes saying, "I have to live forever with trees. Nursery is the base platform for me and my passion is to encourage farmers to take up organic farming. Therefore I share my knowledge on the subject with others enormously as the purpose is to spread awareness and motivate people to put the learning on the fields. Lastly, I hope every human being in their lifetime grow atleast 5 tree because without trees survival of our planet is impossible!"
Contact details:
Avishkar Nursery
At Garal, Tal: Mangaon, District Raigad, Maharashtra – 402 104
Mobile: 09272413046
E-mail: avishkar.krushi@gmail.com